Samsung Galaxy Note 4 hands-on
41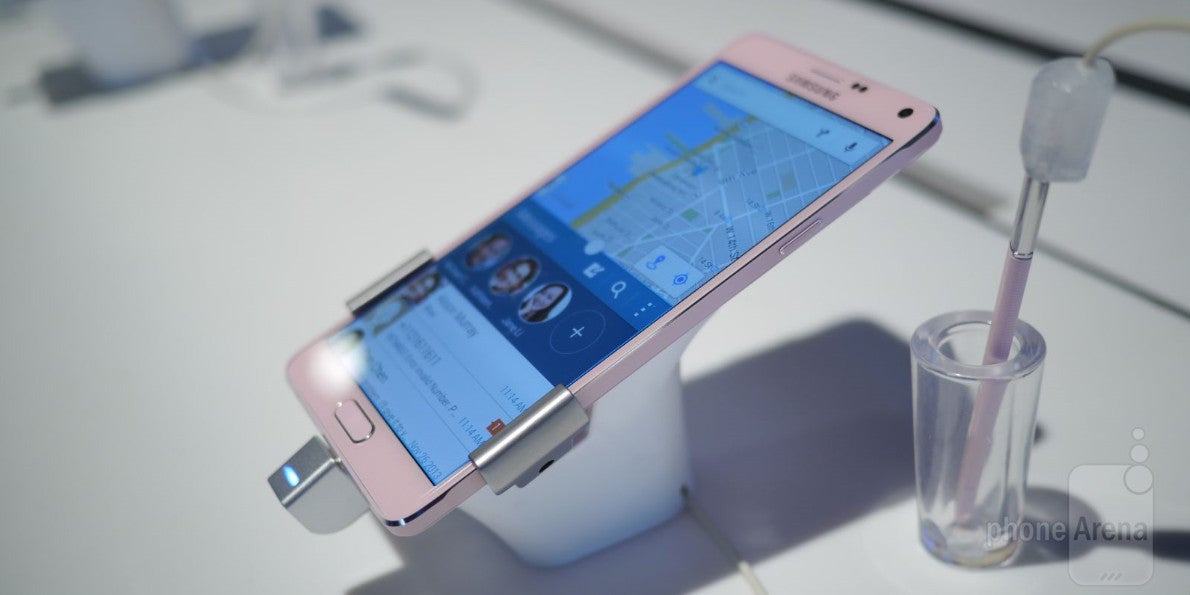 Two and a half years ago, no one believed that it was possible for people to fall in love with obnoxiously sized smartphones. As companies continued to push forward, ever so stretching out the size of our modern smartphone, we soon became familiar with a new coined term that fittingly describes these Herculean-sized phones – the phablet. Ah yes, the phablet, the hybrid name that makes us wonder if these devices are indeed supersized phones, or pocket-friendly tablets.
Amongst them all, Samsung entered the fray with its offering in the Samsung Galaxy Note, which not only introduced us to the budding segment so intimately, but it even brought back something we thought of being obsolete. You guessed it folks, it was the stylus, you know, the pointy thing that resistive touchscreen phones back in the day offered to better provide interaction with them. Perfecting its craft over the years, Samsung is introducing us to yet again the latest incarnation in its popular series – the Samsung Galaxy Note 4.
Design
Generally speaking, the design language of the Galaxy Note 4 doesn't stray too far from the established principles its predecessors have abided by. Essentially, it still looks like a Note-like device, but upon closer inspection, we do appreciate the subtle improvements seen to this new model. In particular, they've enhanced the design by sprinkling a higher level of class to the device by giving it metal sidings – similar to what they've done already with the Galaxy Alpha. Honestly, though, it's a small tease, since the phone is still primarily constructed out of plastic. Regardless of that, there's no arguing that it now boasts a more profound premium quality than ever before.
With each succeeding Galaxy Note smartphone, Samsung has been able to minimize the amount of bulk tacked onto them. Rightfully so, they're able to do yet another bang up job here, as the phone packs skinnier bezels around its display – further reducing its size, without compromising on the screen's size. For a phablet, it's still incredibly tough to finagle with a single hand, but we're nonetheless pleased by the improvements here.
As usual, the phone features some handy tools that we've come to expect with a high-caliber smartphone – like an IR blaster to make it double as a universal remote, various Air View functions with the aid of the S Pen, and a microSD card slot to supplement the phone's internal storage capacity. New additions, however, are also appreciated, as this marks the first time we're seeing a fingerprint and heart rate sensors incorporated into the phone. Unfortunately, the finger print sensor functions just like the one in the Galaxy S5 – so it's a hit or miss kind of thing. Moreover, the heart rate sensor only adds to its geek cred.
Out of everything, we were so hoping to see this one receive the same water-resistant construction of the Galaxy S5, but due to the S-Pen's slot, that's not something feasible here. Overall, the incremental improvements are all here, but we're glad to see the Note-series getting a slightly more premium quality with its metal trim. Beyond that, however, we can't say that it's the most polarizing design our eyes have feasted on, since HTC and Sony remains to be tops in that category.
Display
In truly being a smartphone for the times, one that's meant to be a contender in the space for some time, Samsung has blessed the Note 4 with a higher-resolution display – Quad HD (1440 x 2569 pixels). Needless to say, it's something we all were expecting, seeing that QHD resolution is what today's top-of-the-line phones seem to be favoring. Considering that its size has been maintained at 5.7-inches, the Note 4 betters its predecessor with its killer pixel density count of 515 ppi. Obviously, it produces sharp looking details where each individual pixel is indistinguishable to the naked eye – even super close.
Still going with its tried and true Super AMOLED display, it's not something we're ecstatic about over other things – like its higher resolution. At this point, we're content with the display, which delivers all of the qualities that astound us about the technology. For starters, it still has that wow factor thanks to the over-saturated colors it's able to produce. As we've seen, however, AMOLED technology has been improved dramatically to the point that its brightness output and color accuracy matches that of its LCD counterparts. And yes people, we can attest that the same applies here with the Note 4's display.
Always known to be the stylus-friendly smartphone, the Note 4's included S-Pen once again provides us with a few more features than the average smartphone. Not only is it handy for jotting things down or navigating across the platform, but its usefulness extends into other aspects that we don't get from other phones. For example, it's a tool that really complements the note-taking experience. From being able to crop certain elements of a web page, which we can then attach to an email, to other things like giving our photos that professional touch, since the S Pen is pressure sensitive, it's a tool that greatly enhances the experience with the smartphone.
Interface and Functionality
Clearly sporting the same TouchWiz interface as the Galaxy S5, the Note 4's experience is enhanced slightly with the addition of a few new features. Visually, there's no denying that it's TouchWiz we're dealing with, but at the same time, its overall presentation is beginning to lag behind its rivals. In contrast to the cleaner and more modern custom Android experiences we've seen, like HTC's Sense 6.0 or LG's latest custom UI, TouchWiz is showing signs of age – to the point that it's almost antiquated.
Of course, Samsung has learned from its past endeavors, where previous versions of TouchWiz just brought on too many software features to the user. The end result, naturally, was that we were bombarded by too many redundancies, which Samsung remedies here with its latest incarnation. Indeed, the offerings have been toned down tremendously, it bears the same set of features we already have with the Galaxy S5. However, first-time features seen here include a new swipe gestures that enable us to wake up the phone – and the ability to launch certain functions via swipe interactions with the fingerprint sensor.
In all fairness, not everyone will use these features day-in, day out. Nevertheless, they've nice additions worth having in the event we choose to use them. As usual, though, the Samsung Galaxy Note 4 is a powerhouse when it comes to productivity – where its multi-tasking functions are a cut above the rest. And it helps, too, that we have a sizable display to work with.
Processor and Memory
Depending on the region, the Samsung Galaxy Note 4 will be equipped with either a Qualcomm Snapdragon 805 SoC – or Sammy's in-house Exynos 5433 processor. Both will obviously be complemented with an ample 3GB of RAM. With the pre-production unit we're handling, the Note 4 delivers enough snappy responsiveness to warrant its high-end status. Sure, it's able to smoothly navigate the homescreen, and execute other basic operations, so we're pretty certain that it'll handle today's 3D intensive games.
At the bare minimum, variants of the Galaxy Note 4 will pack along a spacious internal capacity of 32GB, which can be supplemented by the phone's available microSD card slot.
Camera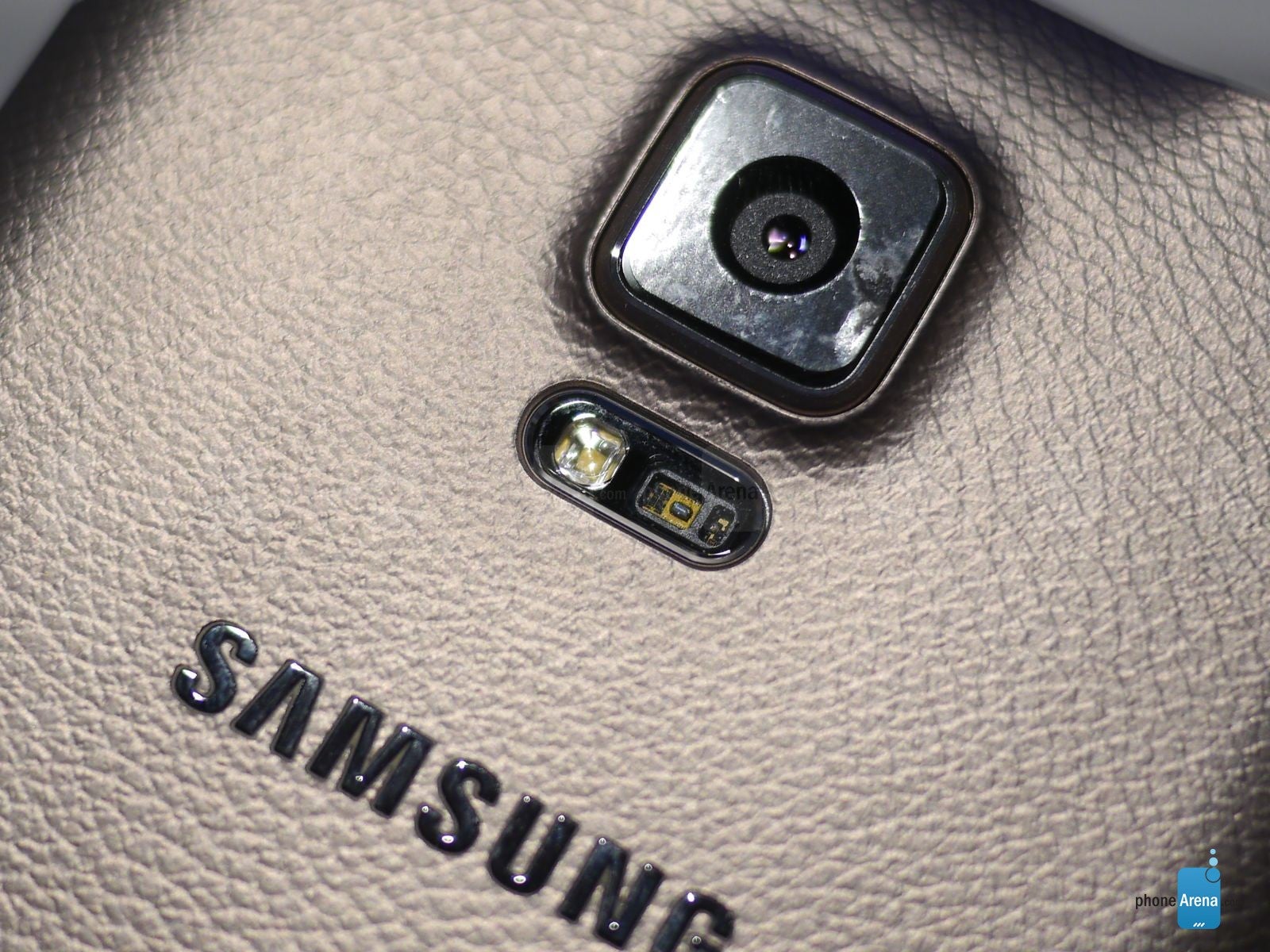 Always the one to impress, Samsung outfits the Note 4 with a larger 16-megapixel auto-focus camera, which matches the size of the Galaxy S5. Unlike that device, however, the Note 4's camera is improved by the addition of optical image stabilization, which helps to keep things still – even if you're jittery after engulfing a venti iced coffee from Starbucks. Not surprisingly, it's a fully-equipped offering that provides us with a wealth of shooting modes and manual controls to appease the inner shutterbug in all of us.
Expectations
A powerhouse in the smartphone industry, Samsung knows that people want to snag the Galaxy Note 4 as soon as they can. Rightfully so, the phone will be available very shortly in a variety of markets – with the US getting it in just over a week from now. Being a common practice, since the Galaxy S5 occupies that $200 on-contract price mark in Sammy's portfolio, we're not taken by surprise with the Note 4's $300 on-contract price. Most folks might cringe looking at that figure, but we have to remind ourselves that this is a phone that packs 32GB of internal storage, which matches the price of the 32GB iPhone 5s.
At the end of the day, the Samsung Galaxy Note 4 boasts all of the incremental improvements needed to keep it in contention this upcoming holiday season. However, the more we look at it, the more we feel like this smartphone doesn't come off as overly compelling or innovative. That's not fatal, seeing that it's a top-notch smartphone that seems to have the goods, looks, features, and high-level performance to keep it a cut above the rest. Still, there's something in the back of our minds that makes us yearn for more – as in giving it a totally new, more aggressive redesign. Either that or give us some cool, next-generation feature that Samsung can claim to be original, as opposed to just having improved specs to stay in contention with the competition.