Samsung Galaxy Note 4: should you upgrade from the Note 3 or others?
65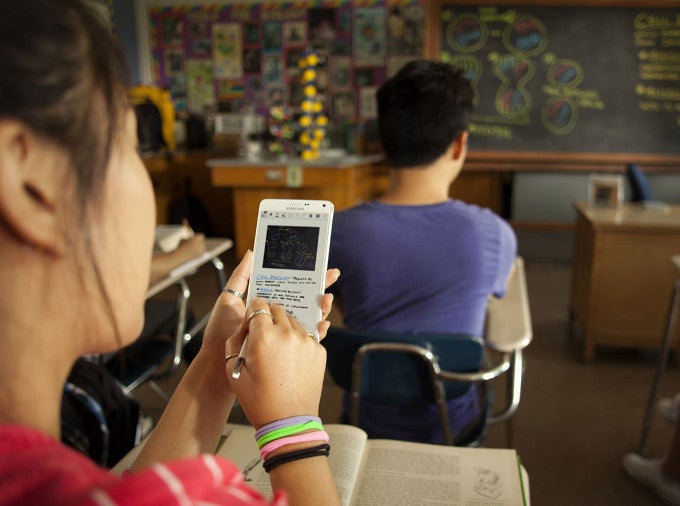 Samsung announced the
Galaxy Note 4
with its now-typical two-hour long fanfare, where it revealed every nook and cranny about the handset in thorough detail. As expected, it's packed to the gills with the latest and greatest in mobile hardware and software, but is it compelling enough to upgrade from, say, a
Note 3
, or even the
Galaxy S5
? Let's see...
Design
Tit-for-tat, the Note 4 has a better design than its predecessor, mainly on account of the stylish metal rim framing its sides, Galaxy Alpha-style, though it is slightly taller than the Note 3. It still keeps the signature faux leather back, but introduces biometrics in droves, such as a fingerprint scanner, embedded in the home key, as well as a heart rate sensor on the back. The presence of a finger sensor in the home key is of dubious advantage on such a large handset, at least until you get the knack of unlocking it with a swipe without dropping the 5.7" phablet. Looking further around the chassis, we find not two, but three noise-cancelling microphones, which would allow you to suppress all but one voices from a conference call recording, for instance. This would also ensure better call quality with less ambient noise sneaking in, and more natural-sounding timbres.
Displays
Bigger is not necessarily better when it comes to such already-large screen panels, that's why Samsung kept the display size the same at 5.7", but upped the Super AMOLED panel's resolution to the futureproof 1440p. Not that you would notice much difference between 386ppi and 515ppi in 99% of scenarios, but the bragging rights are there indeed. Moreover, this 1440x2560 pixels resolution ensures the Note 4 will be relevant hopefully two generations from now, as we expect manufacturers to stop and take breath at QHD next year, before they start thinking about 4K in phones, which will likely happen, sooner or later. Thankfully, the battery life hasn't taken a hit, as with the rest of the Quad HD phones out there, as Samsung promised a 7% boost in endurance, but that would still place its battery endurance way below that of the 1080p flagships like Xperia Z2, or the Galaxy S5.

S Pen and interface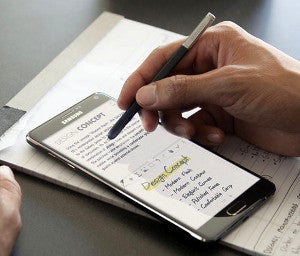 The Note 4 introduces a veritable smorgasbord of new interface elements, most of which have to do with the upgraded S Pen stylus, which now sports double the predecessor's precision.
The S-Pen will now also work a bit alike to your computer mouse. For example, if you go into the Note 4's gallery, you'll be able to select multiple photos by clicking and dragging over an area. Samsung has also improved its S-Note app, so now you can snap a picture with your camera and edit it afterward, even if the picture you snapped is titled (S-Note automatically rotates it).
Processors and memory
Note 4 is one of the first devices with Qualcomm's latest and greatest Snapdragon 805, or an Exynos 5433 chipsets, ensuring it will be futureproof in that regard at least a year from now. Besides the CPU clock and graphics performance boost, some of the main advantages of 805 against 801 are the improved image processing for the camera shenanigans. Its main reason for existence, however, is called 4K. The 805 is thoroughly optimised for encoding, decoding and streaming 4K footage effortlessly, and without taking an excessive toll on the battery, or overheating, like it sometimes happens with the previous-gen processors. As for the memory situation, it remains the same that we find in the Note 3.
Cameras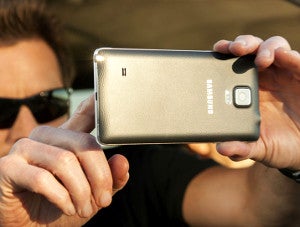 With the Note 4, Samsung is finally implementing optical image stabilisation on its phones (if we don't count its chubby members of the Zoom line). Thus, the new phablet has a 16 MP shooter with pulse LED flash, and protection from video shake and motion blur from hand tremor. OIS is a great technology to have, and we can't wait to test Samsung's take on it, after we've seen what it can do on Nokia, HTC or LG devices, for instance. All in all, the Note 4 is shaping up to be much superior than the Note 3 in the camera aspect, which is already saying something. Last but not least, the Note 4 has a new, wide-angle 3.7 MP selfie cam that can fit more attention-seekers in one frame.
In a nutshell - yes, you should upgrade from your Note 3 to the Note 4. The latest generation of Samsung's venerable phablet brand is perhaps the biggest upgrade in the line's history so far. The design is more premium than Samsung's standards, the processor is 4K-optimized before 4K has even become mainstream, and the Quad HD resolution ensures that the Note 4 will be futureproof for what might be two generations now, instead of becoming obsolete every year. When we pile on the superior audio recording quality, faster charging, the increased S Pen sensitivity and its extra features, as well as the optically stabilized camera module plus the wide-angle selfie cam, the Note 4 becomes the phablet to have, and, as usual with Samsung's phablet line, it is likely to keep its value higher, and for longer.