Samsung Gear S3 software update brings bucketloads of new features for users in the US
8
The Tizen-powered
Samsung Gear S3
is already available in the United States in both versions: frontier and classic. The smartwatch already offers a full array of great features, but Samsung is now rolling out a new update that brings more improvements to the
Gear S3
in the US.
The changelog of the newest software update for the
Samsung Gear
S3 looks intimidating (in a good way). Aside from many of the new features, the update adds a couple of new Partner Apps will be available for download in
Galaxy Apps Store
.
Spotify, BMW Connected, Gear for Nest, Facer, and NYC Transit apps are now available for Samsung Gear S3 users in the US via Galaxy Apps Store.
Among the new features added in the update, Samsung mentions Find My Device, which will display user's contact info on the Gear S3 smartwatch if it gets lost. After the update, users will be able to add new Date and Music complications to selected watch faces.
An altitude auto refresh feature to the alti-barometer will be added as well, along with the option to add a date and time when creating a Reminder with S Voice. The Samsung Health app has been improved with a customizable pace-coaching feature and HR Zone information for Running.
Samsung Gear S3 frontier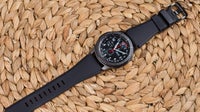 Furthermore, a TTS option is now available in the Input menu. The News Briefing app received some improvements to the UI, while iOS support has been enhanced with UX tweaks and bug fixes such as S Voice recognition rate, connection stability and music transfer from PC.
Many accessibility new features have been added to Direct access menu, including a screen reader, accessibility, dark screen, greyscale, and negative colors. Lastly, there's a new Auto Switch feature available, which automatically connects the
Gear S3
to the paired smartphone.
Samsung Gear S3 owners should look for a new
Tizen OS
update with build number 2.
3.2
.3, which contains all the improvements and new features mentioned above.