Samsung Galaxy Tab 10.1 advertisement shows off its speedy HSPA+ connection
1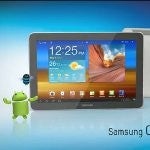 By now, we've seen three different advertisement videos that show the usefulness and beauty of the
Samsung Galaxy Tab 10.1
. First it showed off how it was
more capable than the iPad 2
, then the second one featured its
razor thin profile
, and the last one made it known at how
light weight it really is compared to the competition
.
Well, the most recent advertisement for the Samsung Galaxy Tab 10.1 features two opposing fathers trying to keep their kids occupied by playing videos of pandas on their respective tablets. Of course, the
HSPA+ enabled
version of the Samsung Galaxy Tab 10.1 is able to load the video without much buffer time – while the other father is struggling to keep his kid from going crazy while it's buffering.
So what does it all mean? Well, owners of the HSPA+ capable Galaxy Tab 10.1 won't have to worry about their kids getting all out of control while trying to load something on the web – thus, keeping their kids content and cranky-free.
via
Samsung Hub