Samsung GALAXY Tab 10.1 Review
21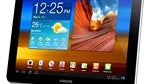 Introduction:
Not content with being second best, Samsung went back to the drawing board after Apple unveiled the iPad 2 to the world – with its impressive thin profile and premium construction. Of course, Samsung isn't content knowing that they've been one-upped, and instead, they reworked the design of their Samsung GALAXY Tab 10.1 to meet the new standard set by its chief rival. After being officially unveiled back at CTIA 2011, consumers in the US are now able to scoop up the Samsung's redesigned tablet – thus being crowned as the thinnest and lightest tablet on the market. Instantly, it's going to catch plenty of inquisitive glares with its razor thin profile, but more importantly, does it have enough drawing power to make it a well-rounded model that can stay head above water over other recent Honeycomb flavored tablets flooding the market as well?
The package contains:
Samsung GALAXY Tab 10.1
Proprietary USB Cable
Wall Charger
US Plug Adapter
Quick Start Guide
Health & Safety and Warranty Guide
Design:
Alright, let's get the obvious out of the way, but the Samsung GALAXY Tab 10.1 is undeniably super razor thin – albeit, we're not thrilled at the same level when we first feasted our eyes on the iPad 2. Nevertheless, it's the first thing to capture our attention. Besides its slender looks, we're greeted with a conventional looking tablet that doesn't boast anything we haven't seen before. The combination of its white plastic rear cover and silver accent offers a suitable contrasting look, but it doesn't particularly scream anything premium. All in all, it's indeed a valiant effort on Samsung's side, however, it lacks the ingenuity and polish that we find on models like the Apple iPad 2 and
HTC Flyer
.

Of all the Android powered tablets we've reviewed thus far, the
10.1" PLS-LCD display
of the Samsung GALAXY Tab 10.1 is arguably the best we've seen to date – honestly! For starters, its 1280 x 800 resolution offers some vivid and sharp looking details, but when you combine it with its iridescent color production, it charismatically dishes up one potent luminance that makes it utterly alluring. Seeing that it's one of the brightest panels we've seen grace a tablet, we didn't have almost any issues attempting to use it outdoors under the presence of the sun. Adding to its prowess, its viewing angles are pretty much rock solid to keep its flowing colors visible in just about any way you look at it.
When held in landscape, its front-facing 2-megapxel camera sits squarely in the middle along the black bezel surrounding the display – with the proximity and light sensors nearby. On both its left and right
sides
, cutouts found along the silver trim bezel hide its two speakers, which offer support for stereo output. Meanwhile, the 3.5mm headset jack, raised dedicated power button, and volume rocker are positioned along the top edge – with the latter two exhibiting a natural tactile response when pressed. Oppositely, the tablet's proprietary dock connector and microphone are found on the bottom side of the tablet. Sadly though, it's sorely lacking some modern amenities; like a microHDMI port and microSD card slot.
Flip it around to its
rear
, the 3.2-megapixel auto-focus camera with LED flash resides directly in the middle of the silver plastic accent.
As much as we're in love with its skinny looks, one has to wonder if Samsung had to compromise on other goodies that are increasingly becoming prominent amongst most tablets. Additionally, its plastic construction is alright, but doesn't make a resounding or long-lasting impression on us – then again, we're curious to see how the metallic gray version of the tablet pans out.
Recommended Stories