Samsung Galaxy Tab 10.1 first commercial hits, complete with Apple belittling
12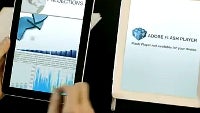 We all know that the
Samsung Galaxy Tab 10.1
bathes in the sunshine rays of the "
thinnest and lightest 10" tablet
" title. We'd imagine that Samsung would be using this at the forefront of its hefty promotional campaign that started with an
exclusive concert by R&B singer Ne-Yo
the other day.
The first commercial for the Galaxy Tab 10.1 that Samsung has prepared to air, however, deals directly with an indirect competitor, Apple's iPad 2. At times during the footage, the Samsung Galaxy Tab 10.1's capabilities are directly compared to the incapabilities of the iPad 2, like Adobe Flash absence, for instance, and it all ends up with the conclusion that the Tab 10.1 does a lot of things better.
It's an entertaining watch, so have a look at the video below, you might learn something, like how to get your tree-stranded pets down without the need of uniformed crews or a ladder.
Recommended Stories