Samsung Galaxy S II might have already sold 6 million
39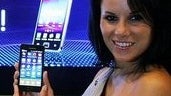 It's only been less than three months since the
Samsung Galaxy S II
has made its debut across the globe, but sales of the super slim handset have already soared to the
staggering 6 million
, according to tech blog Digital Versus which quoted a Samsung report. Just three weeks ago sales of the Android-powered device clocked in at the whopping
3 million, 55 days after roll out
.
At such a rate, the
Galaxy S II seems well on track to beat its predecessor
, the Galaxy S, which registered some 14 million sales in less than a year. Even more so when we count the fact that the US market, which happens to be the biggest contributor to sales of the original Galaxy S, doesn't yet have it.
But the wait shouldn't be long - the 4.3-inch
Galaxy S II is expected to land stateside "sometime in August,"
Samsung's own head of mobile business Shin Jong-kyun said earlier. The dual-core handset will be coming in three variations: the
Samsung Function
for Verizon, the
Samsung Attain
for AT&T and the
Samsung Within
for Sprint. Growing with this healthy pace, the Koreans might well challenge Apple as the biggest smartphone maker in the world for the quarter. It's only a couple of days until their financial results for the quarter are out on July 29th, so stay tuned.