Romans From Mars hands-on
0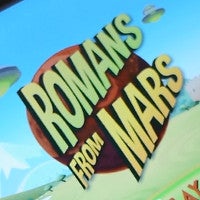 Tower defense games are aplenty on mobile! They've become synonymous needless to say, since they don't require much investment time to master. In fact, a quick few minutes playing them will generally give players a quick overview on its mechanics and game play. Adding an element of action to the popular genre, Majesco Entertainment's upcoming game, Romans from Mars, aims to entice gamers with enough tapping action to keep them entertained – and that's the fact that it's an endless wave castle defense game.
During PAX Prime, we got a quick look at the upcoming title that's coming to iOS, Android, and Amazon devices. The game centers around the battle between Mars, the God of War, who forced aliens to adopt the ancient Roman culture and sends them off to invade good old planet Earth. Meanwhile, they soon realize upon their arrival that a war mage controlling a ballista, our player in all of this, is there to greet them with force. With the aid of the King of the Gods, Jupiter, our war mage is left to defend the Earth with various upgradable crossbows and elemental powers.
The game's premise is simple, as we control the ballista wielding war mage by launching arrows onto the battle field, which is essentially accomplished via taps. As the game progresses, the alien invasion intensifies with different aliens. It soon becomes overwhelming, which is where these elemental powers and upgrades come into play, as our player is able to fend off the invasion longer. Graphically, the game has that cartoon look with it, which is pleasant no doubt and works well with the game's overall premise.
As it currently stands, the game will promote the free-to-play method with in-app purchases when it launches sometime this October. So if you need a good time killer, especially for those precious moments right after lunch at work, this seems it'll fit the bill perfectly.