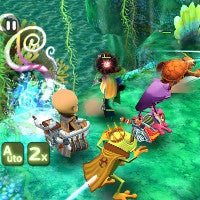 Nowadays, the majority of mobile games that currently saturate the market are primarily played when there's a bit of time killing involve – such as those previous few moments after lunch, right before you need to scurry off back to work to slave a few more hours. Well, if you happen to have a knack for a game that's more comprehensive, especially if you're a fan of the turn-based roleplaying genre, you'll appreciate what game developer Fincon, a South Korean based publisher, has in store with its upcoming mobile game in Hello Hero.
Coming to the Apple App Store and Google Play this fall, Hello Hero is a turn-based online roleplaying game that gives gamers control of five heroes that trek across the Planet of Armon. As for the gameplay, it follows many other titles in the genre, where users battle against evil forces in various missions. Of course, this turn-based RPG game requires some serious investment of time to gain powerful characters, but there's also a multi-player element as well. Specifically, you can participate in different Boss Raids, but even better, there's a World Boss mode that allows users to participate online together to build up character strengths and abilities every three days.
Visually, the game has a particular look to it, as characters have an anime-like appearance to them – even better though, Fincon sprinkles on a dose of comedy with some of the characters' fighting animations. From serious adventurers like your traditional sword wielding hero, to more comedic ones like the guitar-playing cactus, each character has its own set of abilities and strengths. However, players are forced to think on the fly as to what attacks will work best versus opponents.
Naturally, if you're all about action games that require constant interaction, you're not going to find it here in Hello Hero. Rather, if you're driven by character development and social interaction between other players, you'll surely appreciate the level of depth it offers. Without a doubt, you'll be investing some serious time in this one!
TOP-GROSSING FREE-TO-PLAY RPG "

HELLO

HERO

" FROM FINCON SLATED FOR U.S. RELEASE ON IOS, ANDROID AND FACEBOOK
Having maintained a stable user base in South Korea and recently launched successfully in Japan, Fincon Will Introduce Its First Mobile Game in the U.S. This Fall
SEATTLE, Aug. 30, 2013 (PAX Booth #N3) —
Fincon, a South Korean developer and global publisher of mobile games, announced today at PAX Prime that its top-grossing mobile game,
Hello
Hero
(
www.helloherogame.com
), a classic, turn-based online roleplaying experience, will be free to download and play from the App Store and Google Play, and on Facebook, in the United States this fall.
In
Hello
Hero
, players will journey with a team of five
heroes
across the Planet of Armon, battling against evil forces with sharp swords and powerful magic while gaining experience. As players build up their roster of
Heroes
, from guitar-playing cactus to a seductive succubus or a spear-wielding shark, they will be able to change up their gameplay style while accumulating massive wealth, which can be used to acquire more
heroes
or build up combat statistics.
Hello
Hero
features more than 200 unique characters that can be used to take on about 90 mission stages, Boss Raids and Player vs. Player arenas spread across a variety of environments including forests, oceans and dungeons. Every three days, players will be able to participate online together against a World Boss, combining their teams' strengths and abilities to win epic battles.
"As our first mobile launch in the United States, we wanted to deliver the fun and excitement of an online RPG to mobile gamers, new and experienced alike. Whether you have five minutes while waiting in line or an hour on the bus,
Hello
Hero
is a fantastic offering to mid-core gamers who enjoy social RPGs," said Yoo Choung-Gil, CEO of Fincon.
Game Modes include:
Mission: Take on about 90 stages across seven continents fighting a variety of enemies and bosses.

PvP: Combat with a friend in real time without consuming energy or stamina, and helps to increase skills and experience. Players easily invite a friend through identifying a nickname of a friend in game.

Arena Battle: Pit your team of five against others in the world of

Hello

Hero

and see where you stack up worldwide.

Dungeon: Battle against a variety of enemies by completing stages that increase in difficulty. Rewards are greater and are focused on upgrading your characters

Boss Raid: Join

heroes

from around the world as you attack and collectively defeat a World Boss. The enemy changes from raid to raid and rewards are based on the level of damage inflicted.

Launched first in South Korea,
Hello
Hero
has been downloaded more than one million times, ranked first on the App Store and third on Google Play in the "Top Grossing" category.
Hello
Hero
recently launched in Japan as the first step of the global launch.
Hello
Hero
released its first trailer today (
http://youtu.be/AJfPJ-J222w
). Fans interested in the launch can follow Fincon's Facebook page here: Facebook.com/HelloHeroGame.
About Fincon
Founded in July 2012 by Yoo Choung-Gil, known for his vast MMORPG industry, Fincon was created by veteran MMORPG developers to provide its employees with a fun, creative environment focused on crafting the best games. Its first title,
Hello
Hero
, was an immediate success after its local launch in South Korea, being widely considered to have realized the fun of an MMORPG on a mobile platform. Since its initial launch,
Hello
Hero
has been downloaded more than one million times and was a Top Grossing game in the App Store (#1) and Google Play (#3).
Hello
Hero
(
www.helloherogame.com
) is a mid-core social RPG for the iOS, Android and Facebook platforms and features over 200 unique characters for players to collect and use in the battle against the forces of Keronic, the raiders to the peaceful planet, Armon..
Hello
Hero
features a classic, turn-based combat style with players building the best team of 5
heroes
to take on about 90 mission stages, Boss Raids, Arena Battles, Dungeons, Time Attack and PVP. The game is developed and published by Fincon , a South Korean mobile game developer with previous work in the MMORPG space.
Hello Hero screenshots