MOGA Hero Power Controller hands-on
4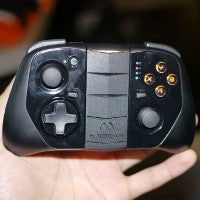 Somewhat more in line to being Moga's entry level offering, we got a sneak peek at the new Moga Hero Power Controller during PAX Prime, which was held over in Seattle during the Labor Day weekend. This specific model is actually the successor to last year's Moga Pocket Controller, however, it sees a drastic redesign and new features to give it a little bit more functionality.
Still quaint in size, the Moga Hero Power follows the same design language as its predecessor, since it has that pocket-friendly size – making it ideal for easy traveling. It might lack the ergonomic feel of the Moga Pro Power, but the new design is noteworthy over its predecessor. For starters, it now features not one, but two fully articulating analog sticks, which easily beats out the single so-called nub that the Moga Pocket packed along. Essentially, the two analog sticks provide a more friendly experience, as it perfectly adapts to a wide range of games – like first person shooters. Secondly, gone are disposable batteries, seeing that this one now packs on its own rechargeable built-in battery. And lastly, the other new design change is the implementation of two bumpers and two analog shoulder buttons. Again, the inclusion of these buttons help to make the controller more diverse.
Part of Moga's new "
Power
" series controllers, the Moga Hero Power controller has the ability to charge devices on the go, since there's a full-sized USB port on the unit itself that enables charging with its 1,800 mAh battery. And finally, it has the option to allow up to four compatible Moga Power Series controllers to connect for multi-player action – something that developers will need to support with games.
So far it's looking good for this pocket-friendly Bluetooth mobile controller. Sure, it might not have the same aggressive look as the Moga Pro Power Controller, but nevertheless, we appreciate its new redesign and compact appearance. Pricing is currently set for $59.99 when it's released sometime this upcoming holiday season.
MOGA Hero Power Controller hands-on