Zombie! Zombie! Zombie! hands-on
3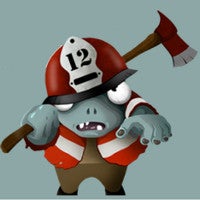 Zombie mania is everywhere! And there's no shortage of it when it comes to mobile gaming. Slowly making it through the crowds in PAX Prime last weekend in Seattle, we spotted a booth manned by the good folks over at Big Fish, where we got a special preview of the upcoming iPad game in Zombie! Zombie! Zombie! As its name so happen implies, it's all about those slow moving, brain eating zombies that are invading every corner of the mobile gaming space.
Using inspiration from the game Plants versus Zombies, this upcoming Zombie! Zombie! Zombie! title from Big Fish employs some of the quality elements that made the aforementioned game such a hit with gamers. With this particular title, it's all about fending off an endless wave of zombie attacks to save humanity. The gameplay is pretty simple, as we are simply required to tap like zombies to form a triangle shape, where our gun wielding crew mows them down with their weapons.
Naturally, the slow moving zombies are easy to eliminate, but there are various zombies that require a little more strategy to kill off. Honestly, this game throws in many special power ups that help to ease the tension when you're being overrun. From an out of control taxi cab that runs over zombies, to another that gives us control of a tank, it's pretty fun getting these various power ups.
Visually, the game employs the same distinct elements found in Plants versus Zombies. There are many animations to the zombies in the game that help to give it a very dynamic and colorful look. It's not graphically intensive per se, but there's still enough balance with the 2D visuals to keep us reeled in. No doubt, this is one of those games that can be a time sucker, which means it's perfect for those moments in between work. Currently, the game is slated to launch sometime this fall on the iPad – so watch out for it!
More games coverage from PAX Prime