Rogers sends out BlackBerry Z10 shipping notifications
1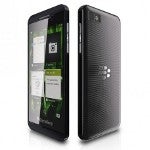 BlackBerry Z10
and
BlackBerry Q10
were introduced? One day later and Canadian carrier Rogers is already
alerting customers
that the all-touch Z10 has been shipped. Unfortunately, the devices are not being sent directly to buyer's homes, but are heading to Rogers' stores. The notifications tell the buyer which store his or her BlackBerry Z10 will be available from, and we would assume that it would be the carrier's store closest to the buyer, including authorized resellers.
The shipments are expected to arrive within four days and Rogers suggests that you wait until you hear from the store that your BlackBerry Z10 is in stock before you leave to pick it up. The phone
officially launches from the Canadian mobile operator on February 5th
and those who ordered the phone will have until February 7th to pick it up. If you haven't actually come into the store to pick up the device by February 7th, Rogers will turn around and sell it to the next customer.
When you go to the store to pick up your BlackBerry Z10, you need to
bring identification
to make sure that you are the primary account holder. The $40 that your account was charged to reserve the phone will be credited back to the account during the following month. Rogers is selling the BlackBerry Z10 for $149.99 with a three year contract, and has started taking pre-orders today for the physical QWERTY enabled BlackBerry Q10. No launch date has been announced for that model.
"Dear __________________,
Great news! Your device is on its way.
We just wanted to let you know that the Blackberry Z10 Black you reserved is on its way to the store in a box with your name on it. At your request, your device is being shipped to:
Rogers Authorized Dealer BC Wireless Solutions
North Vancouver, BC
Shipments should arrive within four days. These are your tracking details so you can confirm when the delivery will arrive at the store:
In some cases, the device will be shipped to one of our distribution partner's regional warehouses before it gets to your local store. We recommend you wait until you hear from a store representative, who will call you to confirm when it has arrived in store.
Please note:
the store will hold your Blackberry Z10 Black until 2/7/2013 on your behalf.
If you do not pick up your device by this time, the store will be free to make the device available to the next customer. Please ensure you bring appropriate identification so they can verify that you are the primary account holder.
The reservation fee of $40.00 + taxes will now be credited back to your Rogers invoice next month.
For questions about the Reservation System, review our FAQs.
We hope you enjoy your new device, thank you for your valued business."
source:
BerryReview