Rogers and Bell BlackBerry 10 pre-order and launch dates (VIDEO)
1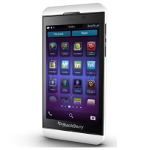 Wasting no time, Canadian carriers Rogers and Bell have quickly announced pre-order and launch dates for the
new BlackBerry 10 models
. Rogers will have the all-touch
BlackBerry Z10
available on February 5th in both black and white, for $149.99 with specific three-year plans. The carrier will also start taking pre-orders on January 31st for the
BlackBerry Q10
. That is the model that features a physical QWERTY keyboard along with a
3.1
inch touchscreen. The latter unit will be available sometime during the year. Pricing for the BlackBerry Q10 will also be released at a future date.
"Being a Rogers customer means you have access first to what's next in mobile technology. Our customers were among the first in the world to pre-register for the BlackBerry Z10 smartphone and now the BlackBerry Q10. Many of our customers are looking forward to experiencing BlackBerry 10 on the Rogers LTE network - Canada's fastest wireless internet. Our teams of in-house BlackBerry experts are available to ensure consumers and businesses have access to world-class serice and support."-John Boynton , executive vice president marketing, chief marketing officer, Rogers Communications
Meanwhile, Bell, announced that it has started taking pre-orders for the BlackBerry Z10 at a price of $149.95 with a three year contract. The phone will be available on February 5th. Unlike Rogers, Bell did not mention when they would start taking pre-orders for the BlackBerry Q10.
"The new BlackBerry Z10 is the fastest, most powerful, most innovative BlackBerry smartphone yet. And only Bell Mobility customers can take full advantage of Bell's unique Mobile TV app with the BlackBerry Z10 on Canada's largest 4G LTE network," -Wade Oosterman, President, Bell Mobility and Residential Services
source:
Rogers
,
Bell
BlackBerry Z10