Report: U.S. and China bound Samsung Galaxy S7 models to carry Snapdragon 820 chipset
68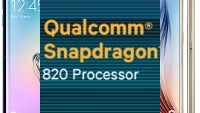 A report out of China released Friday morning (while it was still Thursday in the U.S.), reveals that versions of the Samsung Galaxy S7 heading to the U.S. and China next year, will be powered by the Qualcomm Snapdragon 820 chipset. Everywhere else, Sammy's new flagship phone will be powered by a Samsung produced Exynos SoC. Breaking with tradition, Samsung employed its Exynos 7420 globally on the
Samsung Galaxy S6
this year. But this was not done to start a new tradition. Samsung was just concerned about
reports that the Snapdragon 810 was prone to overheating
.
The Snapdragon 820 features Qualcomm's proprietary Kryo cores, and the quad-core CPU is partnered with the Adreno 530 CPU. Qualcomm has reportedly done a great job at enhancing its newest high-end chip to
cut back on power requirements and offer improved thermal management
. The
Samsung Galaxy S7 will be released in February
, according to the latest rumors.
Samsung has been testing different versions of the phone,
sometimes using the Snapdragon 820 inside
, and other times
loading the device with the Exynos 8890
. The latter could be the next Exynos chip that has been dubbed the M1, or Mongoose. There are still rumors that we will see a 5.2-inch model and a 5.8-inch variant of the Galaxy S7 next year, along with a model sporting 3GB of RAM and one with 4GB of the stuff. When it comes to the Samsung Galaxy S7, we are still in flux.
source:
Reuters