Probable Samsung Galaxy S7 prototype shows up in AnTuTu result with Snapdragon 820 on board
60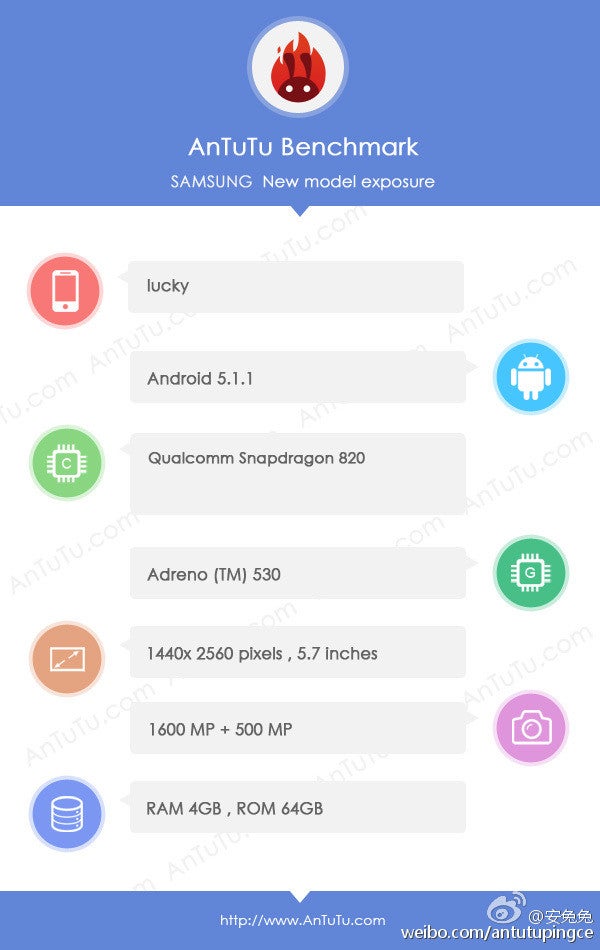 In the past few weeks, the Samsung Galaxy S7 was often the center of numerous reports claiming to reveal information about the next member in the Galaxy S series. Previous unofficial reports claimed that Samsung is considering using both an in-house Exynos chipset as well as the upcoming Snapdragon 820 with the Galaxy S7, depending on the market. We've also heard that Samsung has already started
testing and optimizing the Snapdragon 820
, being the first manufacturer to do so. Today, a smartphone which is believed to be a prototype version of the Galaxy S7 has surfaced online in a leaked AnTuTu benchmark result, complete with most of the hardware specifications.
The first thing to note from the leaked AnTuTu result is that the smartphone is codenamed "Lucky". This is not the first time we've heard about this codename; just yesterday, what appears to be a different version of the "Lucky" was spotted in a leaked Geekbench result running an
Exynos 8890 chipset with custom CPU cores
.
This time around, however, the Lucky is listed by AnTuTu with a Qualcomm Snapdragon 820 chipset. Other specs include an Adreno 530 GPU, 4GB of RAM, 64GB of internal storage, a 16MP primary camera, a 5MP secondary sensor, as well as Android 5.1.1 Lollipop as the operating system. According to the result, the display of the smartphone is a 5.7-inch panel with a resolution of 1440 by 2560 pixels. While this may seem a bit too on the phablet side for a member of the Galaxy S lineup, it should be noted that a recent rumor claimed that the
Galaxy S7 will arrive in two sizes
, one with a 5.2-inch display, and one with a larger 5.8-inch panel.
The Samsung "Lucky" managed to obtain 72,355 points overall, 3,481 points in single-threaded tests, and 23,597 points in 3D graphics performance. Compared to the Exynos 7420 and the Snapdragon 810, the Snapdragon 820 scored significantly better in both 3D graphics as well as in single-threaded. The total points are a bit below the results obtained by the Exynos 7420, and only slightly above the Snapdragon 810. To properly interpret these results, however, we'll have to bear in mind that the Snapdragon 820 is said to come with a quad-core CPU, as opposed to the octa-core CPU architectures of both the Snapdragon 810 and the Exynos 7420. Also, we should note that these results are probably coming from a non-final version of the Snapdragon 820 and that Qualcomm is likely to further tweak and optimize its chipset before the SoC is ready for a commercial launch.
Obviously, there is a lot of confusion at the moment over this Samsung "Lucky" smartphone, and the information we have at the moment is not enough to certify that this is indeed a prototype of the upcoming Samsung Galaxy S7. What do you guys think?