Report: Samsung to move 45 million Galaxy S6 and S6 edge units this year
73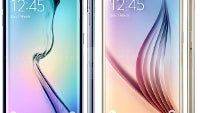 Samsung might be feeling a pinch in the low- to mid-end segments from Chinese manufacturers, but this year its bread-and-butter flagship Galaxy S line will more than compensate, it seems.
According to a Deutsche Bank report, Samsung is on track to sell no less than 45 million
Galaxy S6
and
S6 edge
handsets this year, which will almost hit close to
the internal projection of 50 million
that have been bandied about before.
Unlike what it did with the
Galaxy S5
, Samsung pulled out all the stop with the 6th edition, revamping the design to a more premium glass-and-metal build, putting in the fastest 14nm chipset and the most pixel-dense mobile screen (both of its own making), and equipping the camera with optical image stabilization.
There is no doubt that the unique side-sloping flexible AMOLED display of the S6 edge also contribute to the aura and popularity of the latest installments of the Galaxy S series, so if Samsung really sells 45 million of them this year, it would have earned the success.