Rendering shows Motorola's first Android 4.0 phone and it has Intel inside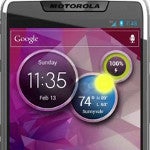 A rendering obtained by PocketNow shows what is claimed to be Motorola's
first smartphone powered by Ice Cream Sandwich
. In addition to being the manufacturer's first Android 4.0 unit, the unnamed device is expected to be driven by
Intel's Medfield Platform
instead of the TI OMAP processor usually found in a Motorola smartphone.
instant-on capabilities
as opposed to the long wait for the shooter that Motorola DROID BIONIC owners have become accustomed to, and which Apple made fun of during the introduction of the Apple iPhone 4S. The cameras also will take bursts of shots as fast as 15 frames per second.
We are looking forward to seeing more of thus unnamed model in Barcelona, especially after seeing the rendering with the thin silver colored casing and the design
free from buttons
. Yes, we will be in Barcelona at the end of the month, so don't miss a second of our coverage of MWC 2012.
source:
PocketNow