Redesigned Kindle Fire to stock shelves end of Q3 with slimmer chassis and higher pixel density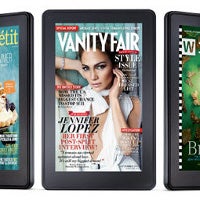 Someone intimately familiar with Amazon's tablet product pipeline has mentioned that there will be a
new and improved Kindle Fire
, which we've already heard from numerous sources.
Now the report says that the redesigned second edition of Amazon's Android tablet will be slimmer and lighter, and will feature a rear camera this time. Most importantly, screen resolution will supposedly be upped to 1280x800 pixels, unlike the current 1024x600 panel.
Screen aspect ratio will be thus altered from 1.71 to 1.6. The improvement of
pixel
density is about 30% compared to the currernt Kindle Fire, and brings it in line with the Google Nexus 7 slate. The new Kindle Fire is expected to hit the shelves in late Q3, which would eventually clash it with a
rumored iPad Mini
, if such a thing exists.