Razer's Edge tablet designed for PC-style mobile gaming
14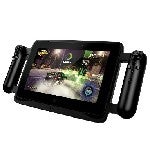 If playing mobile games on your smartphone doesn't cut it, you could take the PC gaming experience on the road with the
Edge tablet
from Razer. This is not your grandma's tablet. Spotted at CES last year as Princess Fiona, the Windows powered Edge has a 10.1 inch screen and is powered by a 1.7GHz Intel Core i5 while a NVIDIA GT640M LE GPU crunches the graphics. There is 4GB of RAM and 64GB SSD on board. Throw in another $300 (taking you to $1299) and you will get bumped up to the Edge Pro with a 1.9GHz Intel Core i7 and have the RAM doubled to 8GB, with either a 128GB or 256GB SSD.
The Razer Edge offers a ton of accessories including a keyboard dock that can be used for games that rely on a keyboard or mouse. Unfortunately, it has yet to be priced because the dock is not quite ready to be shipped yet. But you can buy the
handlebar-styled controller dock
for $249 and don't forget the 40Wh battery packs, which sell for $69 and are said to double the life of the Edge. There is also a docking station that adds additional USB 2.0 ports (a USB 3.0 port comes on the tablet) an HDMI port and stereo sound.
Razer is offering a bundle for $1499 that includes the higher spec'd Edge Pro and the controller dock. The Edge tablet is the perfect way for you to tell your parents that you are getting fresh air and going out, and still get to play those games that you're addicted to.
source:
SlashGear