Apple iPhone accounted for 42% of U.S. smartphone sales in Q1, nearly double Samsung's share
82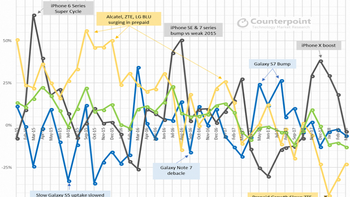 According to the latest data compiled by Counterpoint Research, the Apple iPhone had quite an amazing first quarter in the U.S. We will get to that shortly. Based on actual sales, all manufacturers sold a total of 38.7 million handsets in the states during the three months from January through March. That was the first time in three years that quarterly sales in the U.S. totaled less than 40 million units. And it was an 11% decline from the 43.7 million units sold in the same quarter last year. Counterpoint blames the decline on fewer postpaid promotions in the period. It also pointed out that the promos that were offered usually required activating an additional line. Increases in the purchase of refurbished handsets also were a factor.
For the period, the Apple iPhone accounted for 42% of U.S. sales. Six of the top ten smartphones sold in the quarter were iPhone models, including the top five. In the premium smartphone market ($800+), Apple now has an 80% share. While Apple's U.S. sales rose 16% year-over-year to a record 16 million units, Samsung's share declined 4% over the same time period, indicating weak sales of its 2017 flagship phones. That left Samsung with 22% of U.S. smartphone sales in the first quarter of the year.
LG was next with 14% of the stateside market in the period, followed by ZTE (10%), Motorola (4%), Alcatel (2%) and Google (1%). Counterpoint Research Analyst Maurice Klaehne noted that
Pixel 2
sales would be higher if the line was available from other carriers besides Verizon. He also pointed out that Pixel 2 sales do well when there is a promotion.
The top ten selling smartphones in the U.S. during the first quarter were all high-priced models except for the Moto E4:

Apple iPhone 8 (64GB)
Apple iPhone X (64GB)
Apple iPhone X (256GB)
Apple iPhone 8 Plus (64GB)
Apple iPhone 8 (256GB)
Samsung Galaxy S8 (64GB)
Apple iPhone 7 (32GB)
Samsung Galaxy S8+ (64GB)
Samsung Galaxy Note 8 (64GB)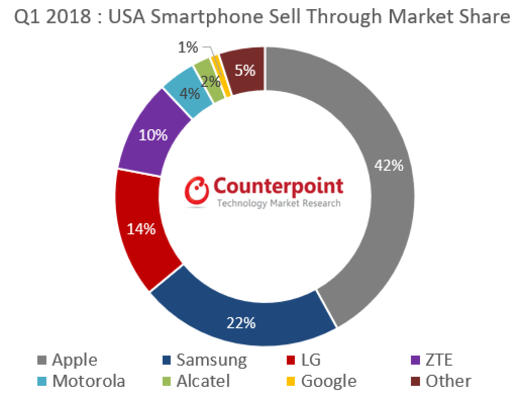 Apple grabbed 42% of U.S. smartphone sales in Q1 2018