Promo code cuts 40% off the price of accessories for the Huawei Ascend Mate 2 4G, from Huawei's site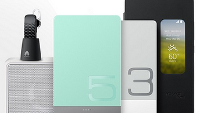 The
Huawei Ascend Mate 2 4G
has
been available in the U.S. since June, for $299
from Huawei's website. The device is obviously for value-hunters, thrilled at picking up a reasonably priced device with a 6.1 inch screen. Sure, the resolution is 720 x 1280, and the pixel density is 241ppi, but for those looking to save on the purchase of a phablet, this is something that they will be able to live with. The massive 3900mAh battery is obviously needed to power the large display, but should also give you all day power at the least.
If you're the type of phone buyer happy to pay $299 for the Ascend Mate 2 4G, you are probably the kind of guy (or gal) who would be ecstatic to save 40% on accessories for the handset. Consider it done. From August 8th to August 18th, use the promo code HW40OFF when checking out on the Huaweii website, and you will be paying just 60% of the listed price for Huawei Ascend Mate 2 accessories.
That includes a smart case for the Huawei Ascend Mate 2, which is normally $39.99, reduced to $23.99. Stereo ear buds for the Ascend Mate 2, great for listening to Pandora at night, are reduced from $24.99 to $14.99 after the discount. Car chargers and portable battery packs are all available with that 40% discount. So is the Color Cube Mini Boom Box Bluetooth speaker
Remember, the discount expires on August 19th, so if you own the Huawei Ascend Mate 2 4G, you might want to go into shopping mode now.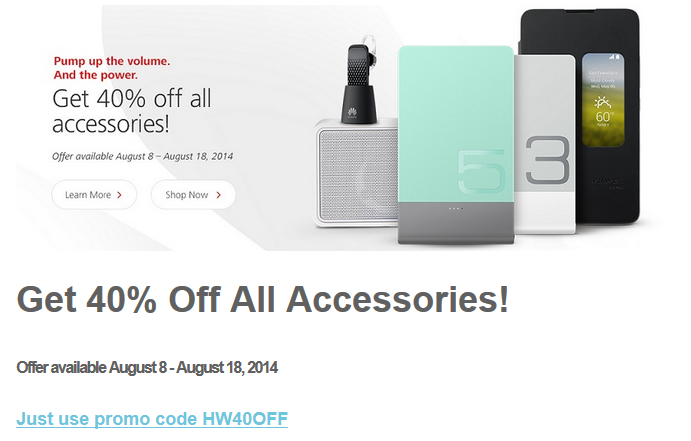 From now through August 18th, all accessories for the Huawei Ascend Mate 2 4G are 40% off with the checkout code
source:
Huawei
via
GSMArena