Huawei Ascend Mate 2 Review
27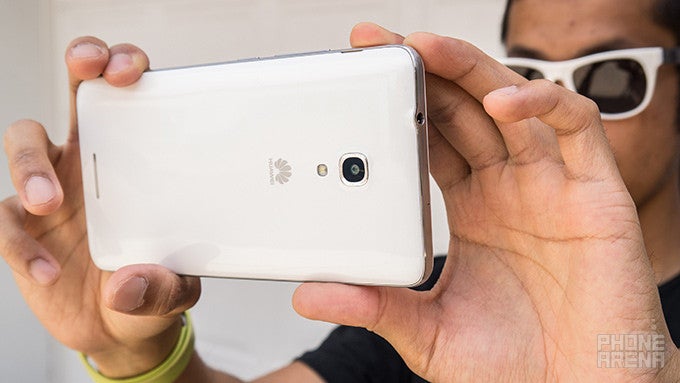 Introduction
Big phones are giving smartphone companies some banging business, as many consumers have ceremoniously adopted the notion of owning these gargantuan sized things. Huawei entered the foray last year with its
Ascend Mate
, but this year's successor brings forth wide 4G LTE connectivity support – to make it compatible with more LTE networks around the world. Naturally, other hardware improvements are in tow with this phablet, but will they be enough to stand tall in a crowded class?
The package contains:
microUSB cable
Wall charger
Design
Its design is as generic as they come. The
Huawei Ascend Mate 2
, which manages to have a smaller footprint to its predecessor – while still maintaining the same sized display. Honestly though, the design is as bland and uninspiring as they come, as it doesn't try to go in a bold, new direction. Instead, it's your typical plastic constructed body that bears a faux-pas metal accented bezel. For the most part, its construction feels decent, but it's just not aggressive enough to contend with the more sophisticated designs out there.
That silver colored bezel bears all of the typical components, like the microUSB 2.0 port, power button, volume control, various microphones, and 3.5mm headset jack. The flimsy back cover can be removed, where we're then given access to its microSD and microSIM slots – though, the battery is fixed, so it can't be removed.
Display
Aside from its resolution, the display has enough quality elements to make it a usable thing.
As with all phablets, the main draw for the Huawei Ascend Mate 2 is its gigantic sized 6.1-inch IPS display. Indeed, it's one of the many things out there that pushes the threshold of what's practical to have in a smartphone, but it's just unfortunate that it doesn't see too much of a separation from its predecessor.
For starters, its resolution remains unchanged at 720x1280, which isn't bad per se, but it would've been nice to see it sporting something a little bit higher – more so after having a year to do it. Despite that, the panel radiates with a stronger output thanks to its peak brightness of 457 nits. Strangely, they've removed the option to modify the display's color representation, but we're not too upset because it's pretty accurate on its own.
Display measurements and quality
Recommended Stories