Plants vs Zombies hits Android, free today
12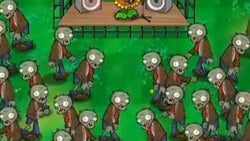 PopCap's Plants vs Zombies
might be one of the most well known titles for iOS, but up until now Android folks couldn't tap into the addictive gameplay exclusive to iOS land. The game has finally hit the Amazon Appstore and it will be available
for free
today and for $2.99 afterwards.
The Amazon Appstore is unfortunately only accessible from the States currently, so if you don't feel like doing any complicated IP hackery, you might have to wait until the game hits the Android Market later on. To download Plants vs Zombies you'll have to waste some
75MB
of your precious bandwidth, so doing it on a Wi-Fi network might help.
For those of you who have missed the zombie craze we'll just mention that you'll be using your yet unconsumed by zombies brain cells to strategically align the flora of a garden so it withstands the attacks of various witty zombies. What follows below is the most
zombifying trailer
we've seen in a long while, so prepare to get stupefied and sing along after you watch it.
source:
PocketGamer
download:
Amazon Appstore