Periscope for Android is updated; here's the changelist
1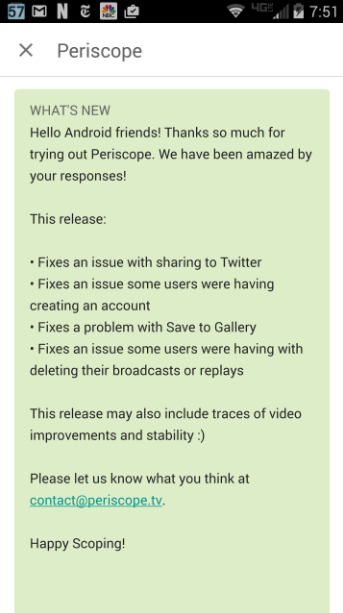 The Android version of Periscope is updated
If we were the kind that likes to amuse with puns and jokes, we would have given this story the title Up (date) Periscope. Ok, so it's not a knee slapper. For those who are unfamiliar with Periscope, the app turns you into a live streaming broadcaster that sends your feeds out via Twitter.
The Android version of the app was released just this past week
, and today an update was sent out to exterminate a few bugs.
The changelist says that the update fixes an issue with sharing to Twitter, fixes an issue some users were having creating an account, fixes a problem with Save to Gallery, and fixes an issue some users were having with deleting their broadcasts or replays. According to Periscope,"
this release may also include traces of video improvements and stability
."
Earlier this month, when the app was an iOS exclusive, Periscope received national attention when
66 live streams of the Floyd Mayweather-Manny Pacquiao fight appeared on the app
. Actually, the streams were showing the pay-per-view broadcast which cost legitimate viewers as much as $100 each. While the Periscope streams were free, they were of poor quality. None other than T-Mobile CEO John Legere admitted that he watched some of the fight over the app.
This is an issue that will certainly come up again. What would stop a Periscope or Meerkat user from sending a live feed from a baseball game or a concert they are attending?
source: Periscope (
Android
)