Periscope gave many fight fans a free look at the Mayweather-Pacquiao bout
41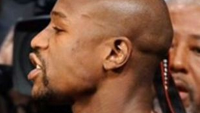 Twitter's Periscope, currently available for iOS devices only
(an Android version will be built) allows users to stream live broadcasts to other Periscope users, or to Twitter users as well. The stream can be opened to the public, or made available only to certain people. The app might have found a large number of new fans this past weekend as it was used by many to view a free low-quality stream of the Floyd Mayweather-Manny Pacquiao fight that took place at the MGM Grand in Las Vegas on Saturday.
Those who weren't comped tickets to the bout, or couldn't afford the steep price (not to mention the cost of flying to the event) had the option of paying as much as $100 for the pay-per-view broadcast. But casual fight fans who didn't want to shell out any money to see what was going on, were able to watch one of the 66 Periscope streams of the fight that were available at no charge outside of the cost of the data that was used. Those sending out the streams simply held up their iPhone to the PPV broadcast from their home or bar, and all of a sudden they were in the sports broadcasting business.
Broadcasters who paid a heavy sum to show the fight (HBO and Showtime held joint rights to the bout), were able to take action against 30 of the Periscope streamers. The other 36 ended their stream before they could get caught. Among that that viewed the fight using Periscope was T-Mobile CEO John Legere.
Broadcast and cable networks spend huge amounts of money to obtain broadcast rights for sporting events. To show how much of a problem Periscope and
a similar app named Meerkat
could be, the NHL last month warned credentialed media that using either app to live stream action from inside NHL arenas was against the league's guidelines. Even streaming a meaningless practice or skating drill would be against the broadcast regulations imposed by the league.
Thankfully for team owners and players, both of whom rely on money coming in from networks for broadcast rights, the images from Periscope and Meerkat are not exactly high quality. That eventually could change. But while they have the chance now, the leagues, owners, players and television networks need to come up with a plan before every sporting event ends up streamed for free.

John Legere admits to watching the fight on Periscope
source:
NYTimes
Recommended Stories