The unique Oppo Find X won't be coming to the US after all
12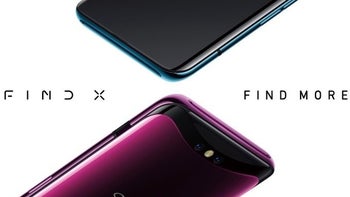 Following the unveiling of the
Oppo Find X
in Paris last week, the smartphone's availability in the US was seemingly confirmed by
The Verge
in its official coverage, despite Oppo itself failing to mention the detail. Today, however, when speaking to Sascha Segan of
PCMag
, the Chinese company has now confirmed that there are in fact no plans to bring the new
flagship to the US
, with its current focus instead being Europe.
Following its recent launch in France, Italy, the Netherlands, and Spain, Oppo plans on using its unique premium device to promote itself throughout the continent in a bid to build up a solid reputation akin to
Apple
and Samsung, something that is reflected in the pricing of its flagship – the Oppo Find X will cost €999 when it goes on sales in the markets this August. For that price, the smartphone brings a unique sliding mechanism to the table that pops out the top portion of the phone to reveal dual rear cameras and a 25-megapixel selfie snapper. Additionally, below the mechanism is a 6.4" OLED display that boasts a pretty high screen-to-body ratio. Also, when it comes to the internal specs, the latest Qualcomm
Snapdragon
845 processor is featured along with 8GB of RAM, and up to 256GB of storage.
Presently, Oppo seems to have focused its plans on building up a reputation in various European countries. Eventually, however, as its popularity grows, the company is expected to begin tackling the likes of Samsung and Huawei by introducing a variety of lower-cost models that are capable of shipping a higher number of units. This will not be an easy task, though, as, in addition to the previously-mentioned companies, Oppo is expected to face tough competition from
Xiaomi
which is showing impressive growth in Europe as of lately. In fact, despite only officially entering the Spanish smartphone market back in November, the company was already the fourth largest vendor by May 2018, with a market share of 7.1%.