OnePlus 5T leaked specs suggest marginal improvements over the current flagship
3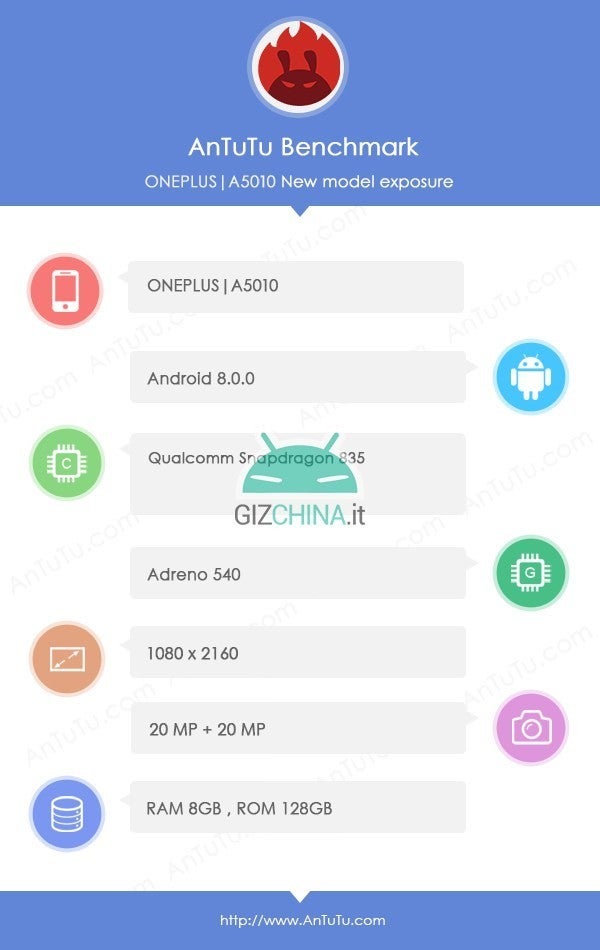 The next OnePlus flagship seems to be one of the hottest devices for Android fans.
There have been many rumors
running around in the last couple of weeks surrounding the so-called OnePlus 5T, but nothing reliable emerged until a few days ago.
Following the leak of a picture
showing the OnePlus 5T, an AnTuTu screenshot listing some of the phone's specifications surfaced online. Keep in mind that we can't vouch for the legitimacy of the screenshot, but some of the information listed comes in line with what we've been hearing lately.
For example, the image somewhat confirms that the OnePlus 5T will boast a large 6-inch display with full HD resolution and 18:9 aspect ration (1080 x 2160 pixels), as opposed to the current OnePlus flagship that sports a smaller 5.5-inch FHD screen.
Furthermore, the OnePlus 5T will be equipped with the same
Qualcomm Snapdragon 835 processor
, paired with either 6GB or 8GB RAM, as well as 64GB or 128GB internal memory.
Another difference between the two OnePlus flagships is the camera configuration. The OnePlus 5T is supposed to pack a 20-megapixel front-facing camera, while the OnePlus 5 has a 16-megapixel selfie snapper.
We can't say for certain whether or not the OnePlus 5T will include a dual-camera setup, but we know for sure it will pack a 20-megapixel sensor on the back. Also, unlike the OnePlus 5 that houses the fingerprint sensor under the home button, the 5T model should have it positioned on the battery cover, the source that provided the screenshot claims.
There aren't any details about the battery, but the screenshot confirms the OnePlus 5T will ship with
Android 8.0 Oreo
on board. Design-wise, the OnePlus 5T will feature a bezel-less form factor, which is one of the reasons the fingerprint sensor was moved at the back. The outer aspect seems to be the main differentiator between the OnePlus 5 and 5T,
but some under the hood improvements may be implemented too
.