OnePlus 2 invites start rolling out today
13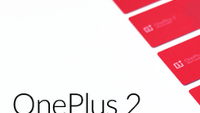 3,627,785. That is the current up-to-date number of registrations for invites that have been received by OnePlus for the
OnePlus 2
. As OnePlus has made clear, those registered invitations don't start coming into play until OnePlus social media stars, contest winners, and Pop-up store visitors cash in their golden tickets. And there are the invites that each OnePlus 2 owner receives, which can be sent out to friends, family and high-bidders on eBay.
A tweet sent out today from OnePlus states that invitations are rolling out starting today. When you receive yours, remember that they are only good for 24 hours. Which means that if you live in the U.S. and Canada, you will need to make the purchase even though
shipments of the phone wont start going out until the very end of this month
at the earliest.
The 64GB model with 4GB of DDR4 RAM will be the first to be sold, priced at $389 USD. The 16GB version stuffed with 3GB of DDR4 RAM, is priced at $329. Like the
OnePlus One
, the OnePlus 2 offers top notch specs priced much lower than what you would expect to pay. Because of the low margins received by OnePlus, they cannot afford to produce handsets on spec. Thus, the invitation system is used to
match up supply with demand
.
source:
@OnePlus