OnePlus 2 Review
99+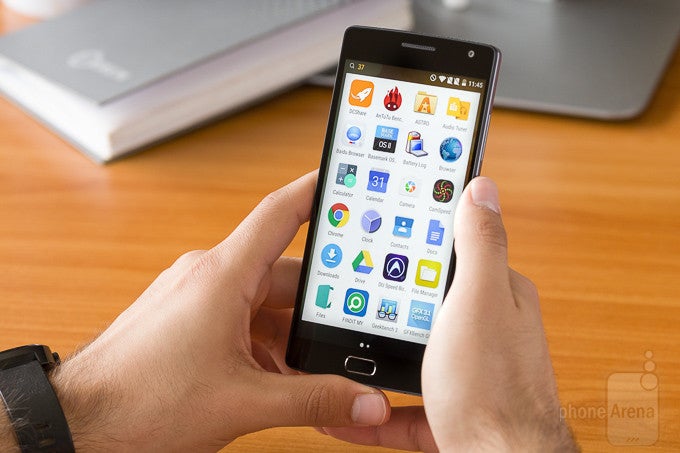 Introduction
*
Review based on the Chinese model of the OnePlus 2 running the global OxygenOS software
In many ways, the story of smartphone entrant
OnePlus
is one of success mixed with quite some controversy. In our review of the company's first product, the One, a little over a year ago, we noted that we were part of the cheering crowd when OnePlus unveiled its debut smartphone. And how could we not be? A full-blown flagship that seemed to have all the details down, sold for a measly $299? A revolution!
Of course, as hype died down, and reality took the wheel, us and many of OnePlus' earliest fans discovered that there's a catch: The phone could only be purchased with an invitation, and getting one was anything but easy. And while most of us understood the business side of that decision, it didn't make for a less unpleasant realization.
The invitation system didn't go away with the new
OnePlus 2
, nor did pricing remain the same. At $389, the 2 needs to offer an even better bang for your buck to be labeled as a success, and now we're going in deep with it to discover if it does.
In the box:
OnePlus 2
Wall charger
Flat USB to microUSB Type C cable (reversible)
Design
The OnePlus One may not have been the most beautiful device ever made, but it looked and felt good in our hands. The OnePlus 2 appears rougher, and we've lost our love for the Sandstone cover.
While OnePlus didn't exactly blow our minds with the design of the One — especially seeing as it looked like a variant of the
Oppo Find 7
— we've got to admit that the Sandstone cover of the original was completely unique. In fact, by now it's something of a OnePlus signature move, so we weren't surprised to see that it made its way to the OnePlus 2.
Unfortunately, no matter from what angle you look at the 2, you'll probably like what you see less than with its predecessor. The distinct, protruding display up front is gone, replaced with a conventional solution, while the Sandstone cover on the rear is rougher and feels cheaper. This was likely a move intended to improve the cover's resistance to the elements, but the net result is negative in terms of the handling experience.
Still, the OnePlus 2 feels right at home in our hand, and we appreciate the effort with the solid metal frame encasing the device. It's also worth pointing out that OnePlus has kept the all-capacitive navigational keys up front, though the Home button now looks and feels like a regular, physical key. Incorporating a touch fingerprint scanner, it reminds of what you get with Samsung handsets, but you can't actually press it down — only tap — which is a bit weird. The 2 also features a dedicated, 3-step switch on the left side, allowing you to toggle between Do Not Disturb mode, priority-only notifications, and normal. On the right, you'll find the power key and the volume rocker, both of which are pretty flush with the surface, but offer a distinct 'click!' when pressed.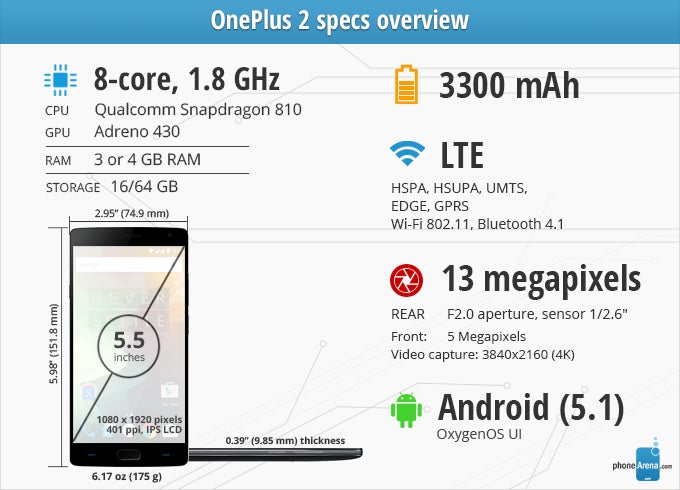 Display
The OnePlus 2 has a quality display, but definitely not one without issues.
Covered by Gorilla Glass 3, the 5.5-incher of the OnePlus 2 is of an IPS LCD make with a 1080 x 1920 resolution, resulting in a pixel density of 401 ppi — more than sufficient to keep our eyes perfectly happy and oblivious to pixelization.
In terms of color accuracy, there are some notable problems with the display worth pointing out, though on the whole it's a quality unit.
Starting with the good, we've got an acceptable color temperature of 7500K (6500K is optimal) — giving the screen a colder look than ideal — and relatively low overall level of color errors at dE 2.18 and dE 4.7 for grayscale (bluish grays). Peak brightness is also excellent, reaching 564 nits, which is more than sufficient for use even outside.
What we definitely didn't like were the severely under-saturated reds across the intensity spectrum, nor the overly high average gamma of 2.46 (2.2 is ideal), which tends to darken highlights, though mid-tones are similarly affected too.
Again, a quality display overall, but not without its weaknesses.
Display measurements and quality