One of the most loved midrangers is back: the new and improved Nokia 6 goes global
14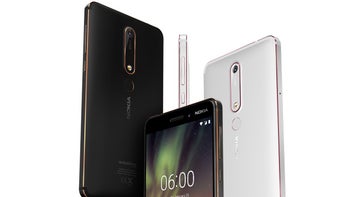 Nokia made its debut last year with the Nokia 6 and it sure managed to stir some emotions. It first launched as a China-exclusive product, which further made anticipation for it grow globally. Both skeptics and devout Nokia fans were waiting with baited breath — would it be the awesome device Nokia promises it to be, or would it be just another midrange Android flop? Then, the Nokia 6 launched across all markets and was a pretty well received thanks to its mix of design, specs, snappy software, and good pricing.
Well, the Nokia 6 (2018) follows the steps of its predecessor. It has already been launched in China almost 2 months ago and has just been showcased on MWC in Barcelona as well. Let's see how it improves on the already successful formula!
While the old Nokia 6 wasn't at all ugly, its appearance was sort of subdued and understated. It was the cool thing in the background, not a fashion statement. The Nokia 6 (2018) throws this notion out the door — its aluminum body is finished with two-tone anodization to make for some striking accents. It comes in three colors that pop — a black with copper accents, white with pink-ish accents, or blue with gold accents.
The phone is on the upper side of the midrange scale and rocks an octa-core Qualcomm Snapdragon 630 processor, capable of reaching 2.2 GHz clock speeds. Sold in two variants, it will either come with 32 GB of memory and 3 GB of RAM, or 64 GB of memory and 4 GB of RAM. The display up front has a 5.5-inch diagonal and a standard, 16:9 aspect ratio. A 3,000 mAh battery keeps things running.
On the camera side of things, we have a 16 MP main camera with Zeiss optics. What's important to know here is that — from now on — every Nokia phone with the Zeiss brand on its camera will come with a cool Manual mode in the camera app. It looks very similar to what we've seen on Lumia phones before and gives you full control over focus, white balance, ISO, and shutter speed, with changes being previewable straight in the viewfinder. On the front, we have an 8 MP snapper for your detailed selfie needs.
Another piece of big news here — Nokia is now an Android One partner. The Nokia 6 comes with a "pure" build of Android 8 Oreo and, thanks to the partnership with Google, it will receive security updates and major Android patches as soon as Google pushes them. No more manufacturer slowdowns, at least that's what we were promised.
The Nokia 6 will launch in early April and will cost around $345.
Recommended Stories