On display at Computex: Acer Iconia Tab A210 and Acer Iconia Tab A110
3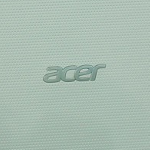 Acer might have been happy just to let Computex end without anyone knowing about the new
Acer Iconia Tab A210
and
Acer Iconia Tab A110
. The two tablets, both powered by a quad-core Tegra 3 processor and Android 4.0, have not been the subject of a press release, nor has the manufacturer pointed them out. The crew at
Engadget
happened upon them while walking through the expo. Obviously, not too much has been released in terms of pricing, although both models will probably be priced competitively. An Acer rep at the event said to expect the pair to launch sometime in Q3.
has many of the same specs as its sequel
, but was powered by a dual-core Tegra 2 processor. We would expect the same camera sensors on the new tablet which would mean a rear facing 5MP shooter and a 2MP front-facing one.
Similar to the Iconia Tab A110, the Acer Iconia A210 shares many of the same specs with its predecessor, the Acer Iconia Tab A200. That would include the
10 inch screen with resolution of 1280 x 800, the USB 2.0 port and the microSD slot. Even the 3,620mAh battery remains the same. It looks like
the main difference is the quad-core NVIDIA Tegra 3
replacing the dual-core NVIDIA Tegra 2. Neither the older model or the new one offers a rear-facing camera. Android 4.0 is installed in the new tablet.
Acer replaced the soft touch coating on the Iconia Tab A200 and Iconia Tab A100 with a hard plastic back with little bumps that resists fingerprints and scratches. Other than that, the only major change that you will find with the Acer Iconia Tab A210 and the Acer Iconia Tab A110 is that both are now driven by the Tegra 3.
source:
Engadget