Acer Iconia Tab A210 Review
4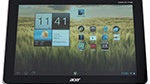 Introduction
The
Acer Iconia Tab A210
is a 10-inch Android tablet sold at an affordable price, but in a time of crystal clear high resolution displays and powerful silicon it is facing an uphill battle. Its biggest advantage is the surprising presence of the ever convenient full-sized USB 2.0 port. With it, you can easily hook up a keyboard (and a mouse) and make this 10 incher into a true productivity machine. Or transfer your data to a flash drive. That freedom is empowering.
On top of that versatility comes a slightly skinned version of Android with the likable Acer Ring UI and a couple of neat apps for image and video consumption. Let's see if those are good enough reasons to justify you buying an Iconia Tab A210.
In the box:
Wall charger
MicroUSB to USB cable
Design
Holding the Acer Iconia Tab A210 in your hand for the first time is a strange experience - it feels like a deja vu with a device from the past. With its chubby 0.49-inch (12.4mm) thick body, and a whopping 1.7 pounds (777 grams) the device is bulky even for a 10-inch tablet. It seems even heavier in comparison with other modern tablets - the otherwise similar
Nexus 10
for instance weighs 40% less and is noticeably thinner. We found the heavy weight of the tablet to be too excruciating to your hands, especially for long browsing and reading sessions, so take this into account.
Those are some shortcuts Acer had to take while designing an affordable tablet such as the A210. However it's not all bad. The curved corners on the back of the device and the soft touch patterned plastic cover actually feel nice to touch and hold, grippy despite that weight.
In terms of
buttons
, you only have on-screen ones on the front and all physical controls are on the sides. The power button is on the left hand side along with a microUSB, a full-sized USB 2.0 port and a microSD slot hidden under a protective lid. The device uses a proprietary charger that is plugged in on the right. Finally, a volume rocker and screen rotation lock are on top.
The
back
is plain, there is no rear camera on the Iconia Tab A210. There is a front-facing VGA camera for video conferencing, though, and that's a welcome addition.
Display
The 10.1-inch IPS LCD 1200 x 800-pixel screen on the Iconia Tab A210 looks paltry at best. It comes with a pixel density of 149ppi, which means that you'd easily see jagged edges around icons and pixelization in general.
The screen could be still okay if it delivered vibrant, rich colors. Sadly, colors look a bit washed out and generally dull, and viewing angles are just average, with brightness degrading when you tilt the device. The glossy panel is reflective and not all that bright which will all make it harder to use the Acer Iconia Tab A210 outdoors.
Recommended Stories