Note 7 may be first with two ambient lights sensors for precise autobrightness settings
34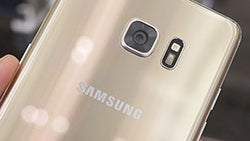 Samsung's
Galaxy Note 7
is no doubt stuffed to the gills with sensors, perhaps more than on any other phone, as it now includes an
iris scanner
and a sensor that lights up the display when you tilt the phone toward your eyes. It turns out that there might be even more than we thought, though, namely a second RGB sensor on the rear for ambient light measurement that returns faster and more precise auto brightness adjustments for the display.
The tip about that second ambient light sensor (ALS) is included in the Note 7 writeup by the screen calibration specialists from DisplayMate. The folks over there explained that using just a front-facing ALS, as on most phones, might be deceiving in certain situations, as your body may cast a shadow on it, while your eyes have adjusted to the general ambient light around the phone, hence the extra sensor on the rear.
Where exactly is that sensor located is not very clear, though - looking at the Note 7's back, one sees only the camera, flash, and heart rate sensor contraption. The pulse scanner does emit light, and has another component at the top, so it might be combined with ALS, but we'll have to probe Samsung for more details. On another note, the Note 7 is listed as able to reach 1000+ nits of peak brightness in auto mode when there is high ambient light around it, so that second sensor might be coming in handy to gauge the precise situation you are in.
Moreover, Note 7 is the first phone whose display is
certified to display HDR video
, and one of the requirements for the standard is that peak brightness is no less than 1000 nits, though it seems made for LCD displays. In any case, it's another interesting tidbit added to an already monster device.
Recommended Stories