Nokia's three musketeers: Lumia 925 vs 928 vs 920 specs comparison
42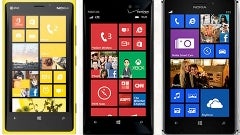 Nokia's newly-announced
Lumia 925
seems to have been codenamed
Catwalk
for the right reason during the development (and the rumor) phase. At 8.5mm it is thinner than even the
Lumia 720
, despite housing a full
PureView Phase 2
camera with multi-axis optical image stabilization inside.
It also the lightest of the three flagship Lumias, at 4.90 oz (139 g), making it about the norm for a handset with a 4.5" display. Thus it addresses the biggest criticisms laid out against the Lumia 920 when it landed in the hands of consumers. Arguably due to its built-in wireless charging coil, the 920 is thick and feels pretty heavy for a modern smartphone, while the 925 offers wireless charging via a separate cover, if you are so inclined.
Thus it manages to keep the chassis very thin, and adds an
aluminum side frame
, which also serves as an antenna. The use of metal is a first for a Lumia phone, and coupled with the compact dimensions makes the 925 the best Windows Phone flagship from Nokia so far.
If we don't count the lack of a Xenon flash, that is, because the
Lumia 928
, despite being only slightly thinner than the 920, adds
Xenon
in addition to the LED video light, making it the first Windows Phone, and the first phone with a modern mobile OS to feature one at all. Verizon's 928 does all this by keeping the weight in check compared to the 920, and introduces a more blocky, rectangular shape to the Lumia 9xx mixer of three. It also sports an AMOLED display, just like the new 925, meaning you can have Nokia's clock and other info floating around on the screen while the phone sleeps, made possible by the OLED technology.
The Lumia 925 dials its internal storage down from the 32 GB of the others, to 16 GB, otherwise the three flagship WP8 musketeers seem to be sharing absolutely the same internals - a dual-core Snapdragon, 1 GB of RAM and 2000 mAh battery packs. Which one would you pick?

DESIGN
Device

Nokia Lumia 925

Nokia Lumia 928

Nokia Lumia 920

Dimensions
5.08 x 2.78 x 0.33 inches (129 x 70.6 x 8.5 mm)
5.24 x 2.71 x 0.40 inches (133 x 68.9 x 10.1 mm)
5.13 x 2.79 x 0.42 inches (130.3 x 70.8 x 10.7 mm)
Weight

the

average

is 4.4 oz (125 g)
4.90 oz (139 g)

the

average

is 4.4 oz (125 g)
5.7 oz (162 g)

the

average

is 4.4 oz (125 g)
6.53 oz (185 g)
Side Keys
Right: Volume control, Camera shutter, Lock/Unlock key
Right: Volume control, Camera shutter, Lock/Unlock key
Colors
Black, White, Gray
Black, White
Black, Yellow, Red, White, Gray
| DISPLAY | | | |
| --- | --- | --- | --- |
| Physical size | | | |
| Resolution | | | |
| Pixel density | | | |
| Technology | AMOLED | AMOLED | IPS LCD |
| Colors | 16 777 216 | 16 777 216 | 16 777 216 |
BATTERY
Talk time
18.3 hours

the

average

is 10 h (624 min)
16.20 hours

the

average

is 10 h (624 min)
17.00 hours
Stand-by time

the

average

is 18 days (443 h)
18.3 days (440 hours)

the

average

is 18 days (443 h)
25.2 days (606 hours)

the

average

is 18 days (443 h)
16.7 days (400 hours)
Talk time (3G)

the

average

is 9 h (543 min)
12.80 hours

the

average

is 9 h (543 min)
10.00 hours
Stand-by time (3G)
18 days (432 hours)

the

average

is 23 days (561 h)
16.7 days (400 hours)
Music playback
55.00 hours
80.00 hours
67.00 hours
Video playback
6.6 hours
6.30 hours
6.00 hours
Capacity
2000 mAh
2000 mAh
2000 mAh
Type
Li - Polymer
Li - Ion
| HARDWARE | | | |
| --- | --- | --- | --- |
| System chip | Qualcomm Snapdragon S4 | Qualcomm Snapdragon S4 Plus MSM8960 | Qualcomm Snapdragon S4 Plus MSM8960 |
| Processor | | | |
| Graphics processor | Adreno 225 | Adreno 225 | Adreno 225 |
| System memory | | | |
| Built-in storage | 16 GB | 32 GB | 32 GB |
| CAMERA | | | |
| --- | --- | --- | --- |
| Camera | | | |
| Flash | Yes | LED, Xenon | Dual LED |
| Aperture size | F2.0 | F2.0 | F2.0 |
| Focal length (35mm equivalent) | | 26mm | 26mm |
| Features | Back-illuminated sensor (BSI), Auto focus, Optical image stabilization, Exposure compensation, Geo tagging | Back-illuminated sensor (BSI), Auto focus, Optical image stabilization, Exposure compensation, Geo tagging | Back-illuminated sensor (BSI), Auto focus, Touch to focus, Optical image stabilization, Exposure compensation, White balance presets, Geo tagging |
| Camcorder | 1920x1080 (1080p HD) (30 fps) | 1920x1080 (1080p HD) (30 fps) | 1920x1080 (1080p HD) (30 fps) |
| Recording format | MPEG4, H.264 | MPEG4, H.264 | MPEG4, H.264 |
| Features | Video calling, Optical image stabilization | Video calling, Optical image stabilization | Video calling, Optical image stabilization |
| Front-facing camera | 1.3 megapixels | 1.2 megapixels | 1.3 megapixels |
| Video capture | 1280x720 (720p HD) (30 fps) | 1280x720 (720p HD) (30 fps) | 1280x720 (720p HD) (30 fps) |
| TECHNOLOGY | | | |
| --- | --- | --- | --- |
| CDMA | | 800, 1900 MHz | |
| GSM | 850, 900, 1800, 1900 MHz | 850, 900, 1800, 1900 MHz | 850, 900, 1800, 1900 MHz |
| UMTS | 850, 900, 1900, 2100 MHz | 850, 900, 1900, 2100 MHz | 850, 900, 1900, 2100 MHz |
| LTE | 800 MHz, 900 MHz, 1800 MHz, 2100 MHz, 2600 MHz | 700 MHz Class 13, 800 MHz, 900 MHz, 1800 MHz, 2100 MHz, 2600 MHz | 800 MHz, 900 MHz, 1800 MHz, 2100 MHz, 2600 MHz |
| Data | | | |
| Micro SIM | Yes | Yes | Yes |
| Navigation | Turn-by-turn navigation, Voice navigation | Turn-by-turn navigation | Turn-by-turn navigation, Voice navigation |
| CONNECTIVITY | | | |
| --- | --- | --- | --- |
| Bluetooth | 3.0 | 3.0, EDR | 3.0 |
| Wi-Fi | Yes | 802.11 a, b, g, n, n 5GHz | 802.11 a, b, g, n, n 5GHz |
| Mobile hotspot | Yes | | Yes |
| Wi-Fi Direct | Yes | | Yes |
| USB | USB 2.0 | USB 2.0 | USB 2.0 |
| Connector | microUSB | microUSB | microUSB |
| Features | Mass storage device, USB charging | USB charging | Mass storage device, USB charging |
| Headphones connector | 3.5mm | 3.5mm | 3.5mm |
| Charging connector | microUSB | microUSB | microUSB |
| Other | NFC, DLNA, Computer sync, OTA sync | NFC, DLNA, Tethering, Computer sync, OTA sync | NFC, DLNA, Computer sync, OTA sync |
| AVAILABILITY | | | |
| --- | --- | --- | --- |
| Officially announced | 14 May 2013 | 10 May 2013 | 05 Sep 2012 |
| Scheduled release | June 2013 | 16 May 2013 (Official) | |