Nokia Lumia 928 Review
77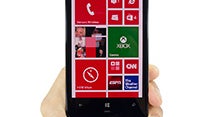 Introduction:
When it came to Windows Phone from Nokia, it was pretty obvious that AT&T received the most love out of the major four wireless carriers. Back last fall, however, Verizon finally saw its first Windows Phone from the Finnish company in the form of the
Nokia Lumia 822
. Needless to say, it was regarded as a special occasion, seeing that Big Red's Nokia lineup prior to the arrival of the Lumia 822 was non-existent. Even though it proved to be a great mid-ranger, especially with its fantastic $99.99 on-contract price point right from the get-go, it really wasn't that super spec'd Nokia Windows Phone that diehard smartphone addicts crave – and when you look at it on paper, it paled in comparison to AT&T's
Nokia Lumia 920
.
Fear not people! That's because Verizon Wireless is getting its own variant of the 920, which should no doubt put Nokia's name near the top of the ladder within the carrier's Windows Phone selection. At its core, the recently announced
Nokia Lumia 928
might seem like a subtle variant of the version that AT&T has been selling for some time now, but there are some notable differences that should make Big Red's customers feel proud they're getting something new. Most importantly, though, it's priced aggressively at $99.99 on-contract to try and lure people away from some other recent entrants in the space. Armed with Nokia specialties such as a PureMotion HD+ display and PureView camera, it's a small sampling of what this Windows Phone is packing along for the ride, but ultimately, it's all about the real world performance that matters the most.
The package contains:
microUSB cable
Wall charger
Start Guide
Important Consumer Information Guide
Global Support Calling Card Guide
Product Safety & Warranty Information
Design:
Physically, it doesn't surprise us that the Lumia 928 has the same distinct design DNA we all know and love by now. However, it makes some minor improvements that are noticeable over the Lumia 920, as it's both thinner (0.4" thin) in profile and lighter (5.7 oz) in weight. Looking at it from its sides, we do recognize its thinner frame, which is partly due to the tapered design that's been employed by many other contemporary handsets of late. However, despite its skinnier appearance from its sides, it progressively gets thicker towards the middle section of the chassis – and eventually flattening out. From the front, it looks a bit one-dimensional with its straight hard lines and 90-degree corners, which doesn't particularly make for the best ergonomics when it's held in the hand.
Constructed out of the same polycarbonate material from before, the Lumia 928 has the same sturdy feel in the hand just like the 920, but it's still fairly weighty over other flagships we've been seeing. Meanwhile, the high gloss finish of the body makes it more susceptible to finger prints and smudges, but thanks to the white color of its casing, it does a better job of masking them. Overall, it's not the most dazzling design we've seen, but at least it's moving in the right direction of shaving off some stuff here and there to make it an incremental update.
In standard Windows Phone fashion, the Lumia 928 is sporting the same trio of Windows Phone buttons we're accustomed to seeing below its display – the back, start, and search buttons. Naturally, they're space away from one another to minimize accidental presses, but the backlighting on them is weak. On the other side, we spot its earpiece, light/proximity sensors, and front-facing 1.2-megapixel camera that's enabled for 720p video recording.
Taking a tour
around its edges
, it's quite clear that they've stuffed all of the handset's physical buttons on its right side. Specifically, we find the power button, volume control, and two-level shutter key for quick access to the camera at any time when it's long pressed. With all of them, they're raised and have a distinctive feel, but they're not as springy as we'd like them to be. Both the left and bottom sides of the phone are completely barren, but the top edge is home to the SIM tray, 3.5mm headset jack, noise cancelling microphone, and microUSB port for charging/data connectivity.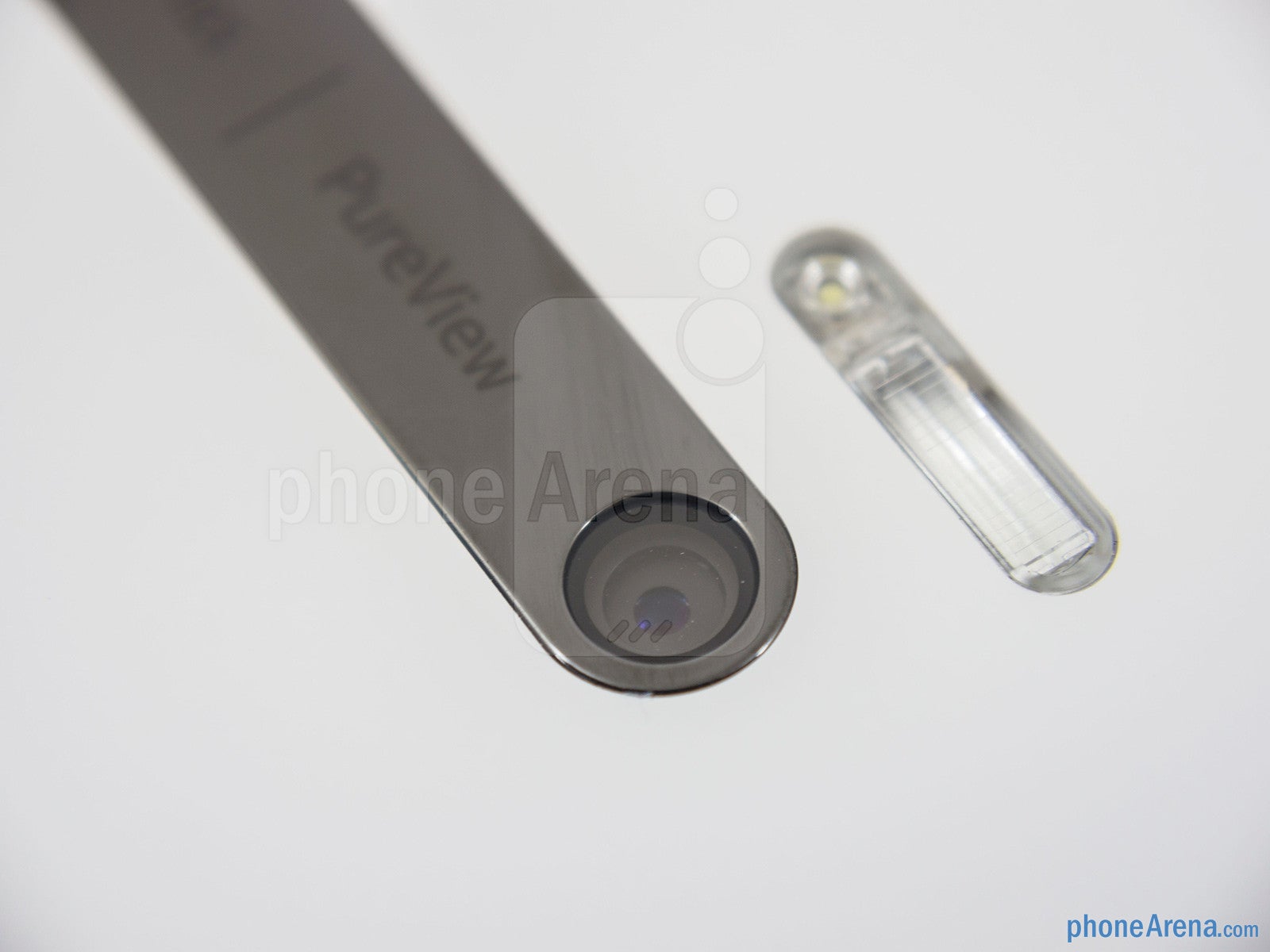 Rear camera
Sure to entice those individuals that take pride in snapping photos on the go, the Lumia 928 features an 8.7-megapixel PureView camera with Carl Zeiss f2.0 lens, optical image stabilization, and 1080p video recording. The Lumia 928 gets also gets a Xenon flash – to brighten up those shots when it's just simply too dark for the camera, by itself, to deliver a balanced final product. Still, we'll reserve our final thought in the camera performance a little bit later.
Display:
For us, it was a big departure to see the Lumia 920 opting to use an IPS LCD panel instead of the AMOLED we've been seeing used by Nokia's devices since their Windows Phone venture, however, we see it back on this one. To be specific, it's a 4.5-inch PureMotion HD+ 768 x 1280 (WXGA) AMOLED display with Nokia's ClearBlack filter and Corning's Gorilla Glass 2 on top of it. So what's the end result? Frankly, it's typical of almost every AMOLED panel we've scoped out in the past – such as delivering saturated colors, wide
viewing angles
, and surprisingly enough, decent outdoor visibility as well. On paper, its resolution pales in comparison to most of its rivals, but nevertheless, it's detailed enough at a pixel density of 332 ppi to make fine text in the web browser visible from a normal viewing distance.
Even though we're nearing the summer season, the display on the Lumia 928 also features a super-sensitive panel that can recognize touch with gloves on. By default, the panel's sensitivity is set at low in the display settings, but after setting it to high, it's able to precisely recognize our touch and swipes. As much as we'd like to see at least 1080p resolution here with the Lumia 928's display, we're not all too bummed out because our eyes wouldn't be able to differentiate it unless we're looking meticulously up close to it. Don't worry, it's still an incredible looking display from all angles.