Nokia Lumia 900 comes with the lowest reflectance of any mobile screen, helping outdoor visibility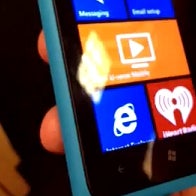 Not that we needed much proof how good
Nokia's ClearBlack screen technology
is after looking at its results, but now the pros from DisplayMate are dressing our impression into cold hard numbers.
It turns out that the Nokia Lumia 900's OLED display with the ClearBlack layer has "
the lowest screen reflectance of any mobile device I've ever measured
", says Dr Raymond Soneira.
The reason this is important is that outdoor visibility under direct sunlight, for example, has only two variables going for it - screen brightness and reflectance ratio. You can have comparatively dim screens, like the ones on the Galaxy S and S II, and yet their very low reflectance allows you to see the screen perfectly well in broad daylight. On the contrary - if the display behaves like a mirror outside, you can pump up the brightness to the max, and will still be unable to see much.
The handset clocks in the breathtaking 4.4% reflectance ratio, which is the lowest we've heard about as well, with the low numbers all being AMOLED displays.Dr Soneira found that the Lumia 900's OLED screen reflectance ratio is 40% lower than that of the LCD one on the new iPad's Retina Display.