Nokia Lumia 900 Review
78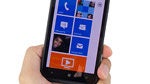 Introduction:
Nokia, Nokia, Nokia. Where have you been? It's been a long time since the US market has been blessed with a high-end offering from you camp, so you know, there are some big expectations riding with this latest endeavor. Indeed, the
Nokia Lumia 710
for T-Mobile was nothing more than a small tease, but when compared to the other pre-existing Windows Phones out there, it didn't quite come off as being something spectacular. Nevertheless, we're inching ever closer to that royal grand entrance that's going to be attached to the
Nokia Lumia 900
.
Call it a sight for sore eyes, but we can't believe that a top-shelf Nokia smartphone is headed to a major carrier in the US. Even better, the Nokia Lumia 900 is aiming to be a memorable device in many ways, but if we'd have to pick, its $99.99 on-contract price point right from the onset seemingly ensures that it won't get lost amongst the masses. Certain to not be forgotten in all of this, Microsoft's presence in the mobile platform space will surely benefit now that Nokia is bringing something grand to the table. With that in mind, let's find out if the Nokia Lumia 900 has the stuff to stand out and make a long lasting impact.
The package contains:
microUSB cable
Wall Charger
Quick Start Guide
Product and Safety Information
microSIM card removal tool
Design:
Let's not beat around the bush people, but we've seen the Nokia Lumia 900 before. To put it bluntly, the Lumia 900 is essentially a larger version of its close sibling in the
Lumia 800
. Technically, it's not something fresh per se, but seeing that this is hitting the US, it's very different looking from everything else out there. With that in mind, its peculiar looking appearance makes it stand out from the conventional designs we've been seeing.
Identical in almost every way to the Lumia 800 before it, except for its overall size of course, the Nokia Lumia 900 combines all the elements that are required in being a compelling offering. Specifically, it employs a unibody polycarbonate design that's clean looking, somewhat streamlined (0.45" thick), reasonably weighted (5.64 oz), and resistant against debris. No doubt it's very easy to handle, but if there's one gripe, it has to the be the sharp feel of its edges – especially the bezel surrounding the display because it's raised higher. Besides that, it has a distinctive look that's so uniquely different, yet enchantingly attractive at the same time.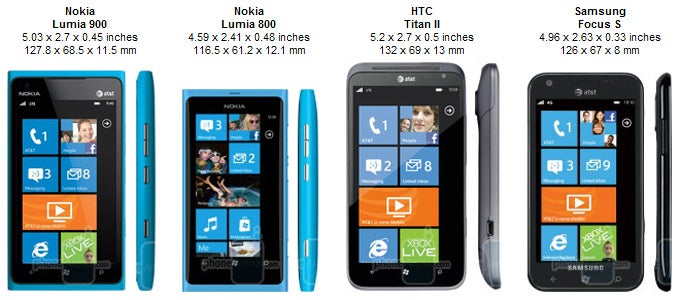 You can compare the Nokia Lumia 900 with many other phones using our
Size Visualization Tool
.
With its trio of
Windows buttons
below its display, they're spaced far away from one another to reduce accidental presses. Meanwhile, a
front-facing 1.3-megapixel camera
is found on the top left corner above the display, which is there ready for all of our video chatting and self-portrait needs.
Peeking over to the
left edge
of the handset, it's completely clean, but the
right edge
is ridiculously crowded by its volume controls, power button, and shutter key. Unfortunately, they're all rather flat to the touch, but at least their responses are decent. Rounding things out on the
top and bottom sides
, we find microdots hiding away its internal speaker, 3.5mm headset jack, noise cancellation microphone, microUSB port, and microSIM card slot.
Sure to impress photo enthusiast out there, the Nokia Lumia 900 is packing an
8-megapixel auto-focus camera
, which features a dual-LED flash, Carl Zeiss optics, and an F2.2 aperture lens. Seeing that it's sporting a unibody construction, there's no easy way of getting access to its 1,830 mAh battery, nor is there a way to expand its internal storage – then again, this is something becoming prevalent across many top-notch smartphones.
Display:
Nowadays, we're spoiled by handsets donning super large displays and some pixel crunching resolutions. So when we look at the 4.3" WVGA (480 x 800) ClearBlack display of the Nokia Lumia 900, we're not all that blown away by it, and the more we think about it, it doesn't necessarily go beyond what we've seen in the Windows Phone space. Well, we're certain it's still going to capture some attention in public, because much like other AMOLED panels, it delivers the wow factor thanks to its wide-viewing angles and vibrant color production. On the other hand, are we disappointed with its WVGA resolution? Honestly, it's a no mainly because that's the resolution we've come to expect with all Windows Phones. Although it's not a pencil pusher in any way, we're still content by this sharp looking display, yet at the same time, we were hoping for something better.
Nokia Lumia 900 360-degrees View: