Nokia Lumia 1520 specs, release date, price roundup: 6" WP phablet to come with 20 MP camera and 4 HAAC mics
85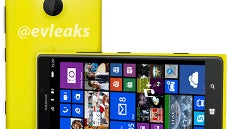 Nokia will be going all out with its first phablet, it seems, as leaked
Lumia 1520
specs today show that the company is throwing the kitchen sink of what it is capable to produce in mass quantities at the moment. It will be the best-equipped Windows Phone ever, and the one that will introduce the wonders of quad-core processors and Full HD displays to the platform for the first time. Let's recap what we've heard on the hush-hush so far about the Nokia Lumia 1520.
Design
First off, we should be getting a 6.41 x 3.36 x 0.34 inches (162.8 x 85.4 x 8.7 mm) handset, which are pretty good dimensions for a 6-incher, and the weight is clocked at 160g for the exclusive AT&T version, while the global release will weigh a tad more at 209g, as it will have a wireless charging coil built in. We've seen the phone leaked in black, red and yellow already, but more colors might be in store for it down the road.
UPDATE
: The phone also
leaked in a cyan render
, but whether or not this will stay just a render we'll find out for sure come October 22.
Nokia has allegedly added a microSD card slot for storage expansions, which is a good idea for a big screen phone, on which you are likely to keep many videos for watching on the go, plus the phone's PureView camera will entice to make footage of your own more often than usual. As for the SIM card, it will likely be of the nano SIM type, judging also from the piece on one of the leaked photos of the handset in the slideshow below.
Specs
Screen resolution of the 6" LCD display will be expectedly 1080x1920 pixels Full HD, or 367pi pixel density at your disposal. It is also to carry a
PureMotion HD+
technology, which, coupled with Nokia's
ClearBlack
filter tech, means we will have a bright screen with excellent contrast and reflectivity ratios, great viewing angles, vivid colors and ultra fast refresh rates.
The processor that will be running the whole show is
expected to be a quad-core Snapdragon 800
, clocked at the respectable 2.2 GHz, which would make the Lumia 1520 the most powerful Windows Phone ever, coupled with its 2 GB of RAM. Sources are claiming also a 64 GB variant, which seems unlikely if we are going to get a microSD slot as well, but the 32 GB version is totally plausible.
A beefy 3400 mAh battery is pegged to keep the
Windows Phone GDR3
lights on, which is on the high side, even for a phablet, and should allow for a pretty good endurance, especially in terms of talk time and video playback. As any self-respecting smartphone with Snapdragon 800 chipset, the phone is likely to support most 4G/LTE networks you can think of, too.
20 MP PureView camera
We've arrived to the exclusive part of Nokia's first phablet, namely the rumored 20 MP camera with Zeiss lens, improved Panorama and optical image stabilization. These specs alone should make it the best camera on a phablet, but since
the sensor is a scaled down version of the 41 MP monster in the Lumia 1020
, it will also offer 1.8x lossless zoom in stills mode, and 4x for HD video capture.
The maximum usable resolution is expected to be 18 MP in 4:3 aspect ratio, meaning we will be getting an oval sensor like in the 1020 flagship. The dual capture mode means you will be getting 5 MP images in automatic mode with the pixel-binning technology that combines the information of four or more pixels into a "perfect" one. There will be also a full 16 MP mode for the ultimate detail capture.
The Nokia Camera app is said to come with improved saturation settings, meaning we will have some exclusives on the software side of things with the phone as well. Last but not least, the Lumia 1520 is listed to arrive with not one or two but
four HAAC microphones
, meaning that we might have a winner in the sound recording aspect not only among phablets, but smartphones in general, too.
Price and release date
The Lumia 1520 phablet is expected to become official
on October 22 at Nokia World in Abu Dhabi
, and
Nokia is already teasing it with new Glance Background screenshots
that show 15:20 as the hour. The AT&T exclusive for the company's first phablet is to start the clock in the second week of November, while global availability is scheduled for the beginning of December. Pricing? That 6" Full HD ClearBlack display, the quad-core Snapdragon and the 20 MP PureView camera with lossless zoom and OIS are unlikely to come cheap. The phone is expected to command a premium phablet price of $299.99 on an AT&T contract, while costing the flagship-worthy $749 without carrier subsidies, which is said to be the global version tag as well.