Nokia Lumia 1520 cyan version leaks, phablet gets teased in new Glance Background screenshot
13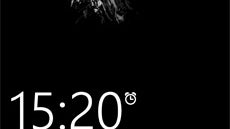 Nokia might be teasing the upcoming
Lumia 1520
phablet with the
Glance Screen
snapshot it posted on Twitter. The tease is actually for the new Glance Background beta, which lets you put, well, backgrounds to show while your screen is off, besides the usual time and notifications.
Observant folks have noticed that the time on the screenshot with the tiger below is exactly 15:20, alluding to the
grand unveiling of Nokia's first phablet next week
. Meanwhile we also had the Lumia 1520 leak in cyan, in addition to the black, red and yellow colors rumored so far, but we'll know for sure come October 22nd.
As for worries about screen burn-in and battery drain if you use the new Glance Background feature for Nokia's Lumias, the company has seemingly addressed those as well:
There were technical challenges, though. Showing an image when the phone is otherwise 'off' created two issues that had to be overcome.

First, every active pixel creates extra drain on the battery. So Martin and his colleagues worked at optimising how the image would be displayed. For example every second vertical pixel is removed on LCD screens, to cut down on the power used. On AMOLED screens, horizontal pixels were also removed to further aid with power consumption.

Second, there was a risk of screen burn – the background image creating a permanent 'after-image' on the display. To resolve this, the displayed pixels are alternated every hour to the ones that are otherwise turned off, so that pixel burn won't happen. This has quite a happy consequence. The image used for the background almost looks as though it's on another, lower level than the clock figures. Less pixels = less light = it looks further away.