Qualcomm tweets Nokia Lumia 1520 phablet will sport Snapdragon 800
46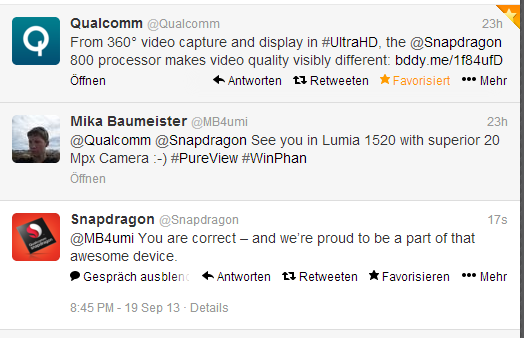 It wasn't completely clear until now what silicon will be in the
Nokia Lumia 1520
phablet, though Qualcomm's current best mobile chipset, the quad-core
Snapdragon 800
, seems as a prime candidate.
That debate might be coming to an end, despite that the handset hasn't even been announced by Nokia yet. Qualcomm itself confirmed its Snapdragon 800 is in there, responding to a tweet, then quickly retracted the statement, realizing some non-disclosure agreements are still in place before the official unveiling, but the cat is out of the bag.
It's not certain if Qualcomm was also confirming
pixel-binning 20 MP camera
that is rumored to be in the Lumia 1520, but it surely confirmed the Snapdragon 800 chipset, so we know at least some of the monster specs speculated will ring true.