Nokia Lumia 1520 samples show off its 20-megapixel PureView camera
34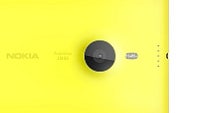 The Lumia 1520 is Nokia's first phablet with a gigantic 6-inch display and an impressive 20-megapixel camera. It's coming to AT&T in just around a week on November 22nd, but we already hold one in our hands and have something exciting to share with you - camera samples.
The 20-megapixel PureView auto-focus camera on the Lumia 1520 comes with a dual LED flash and protrudes just slightly on the back - not so much as to be in the way, but enough to make it clear to passers-by that it's a serious cameraphone you're holding. You can choose to capture full-res images along with smaller 5-megapixel images for quick social sharing. The handset ships with the Nokia Pro camera application that we first saw on the Lumia 1020 and it's the same neat interface with dials for easy adjustments for white balance, manual focus, ISO, shutter speed and exposure.
It's worth underlining that the Lumia 1520 is one of very few smartphones to support real lossless zooming. You can zoom in around 2x without actually compromising the image quality. Nokia has also promised bringing RAW image support for this handset so you can really get serious with your photoediting.
You also have plentiful options for video capture as you can pick between 1080p and 720p and supported framerates of 30, 25 and 24fps. How does it all look? Take a look at the images and video taken on the Lumia 1520 on a cloudy fall day. We've included both the full-res image as well as the lower-sized one, and that's why some images might take a longer time to load.