Nokia Lumia 1020: 41 million reasons to stay tuned for our coverage
72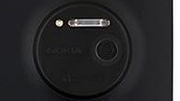 The day is going to be filled with excitement for anyone who is into geeky gadgets. That's because in just a few hours, the newest camera-centric smartphone from Nokia will be announced. Whether it will be called the Nokia Lumia 1020, the Nokia Lumia 909, or something different isn't yet clear. What' we're pretty sure about, on the other hand, is that it will adopt the
Nokia 808
's gigantic, 41-megapixel camera sensor, thanks to which Nokia's newest high-end handset would most likely rank among the best cameraphones in existence.
So yeah, that's definitely a pretty solid reason to stay tuned for our extensive coverage focused on the Nokia Lumia 1020 announcement. We'll be bringing you the goods as the event unfolds -
join us today, July 11th, at 11:00am ET/8:00am PT/4:00pm BST
. Until then, you can examine the list of
what Nokia Lumia 1020 will offer in terms of specs
, according to rumors.