Purported Nokia Lumia 1020 specs sheet leaks: 3x zoom, OIS, six-lens optics, stereo sound recording
99+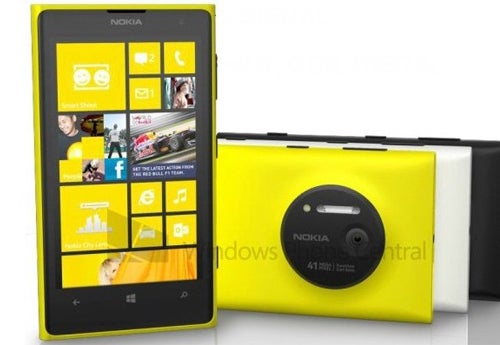 Nokia Lumia 1020
was shaping up as a revolutionary Windows Phone 8 handset even before the full specs leaked out, but now that we have them claimed a few hours before the
official announcement
, the drooling is about to drown the office.
Let's start off with the most interesting part first. Apparently the 41 MP sensor we all know and love from the
Nokia 808 PureView
will be present indeed, as well as the
lossless zoom
concept, up to
3x
. What we find mindboggling is that Nokia has allegedly managed to cram a full
optical image stabilization
(OIS) mechanism around the gigantic sensor, just as rumored, merging
PureView Phase 1 & 2
, but we'll wait for the official confirmation on that this morning at the event, starting 11am Eastern.
The rest of the camera specs include the laundry list: backside-illuminated image sensor,
six-lens ZEISS optics
, Xenon Flash, LED light for 1080p video recording in low-light with 30 fps, and special software like the Nokia Pro and Smart Camera modes.
The computing power should back this up well with a 1.5 GHz Snapdragon processor, 2 GB of RAM, 32 GB of internal memory (
64 GB for some regions apparently
), 2000 mAh battery and NFC with SIM-based security module. The screen should be the PureMotion HD+ 4.5" 1280x768 pixels panel with super-sensitive touch that allows you to use it with gloves on, for instance,
ClearBlack
filter and
Gorilla Glass 3
protection on top. It would also feature
high-brightness mode
for better sunlight readability.
Last but by no means least, Nokia is tipped to have avoided the chunky chassis of the
Lumia 920
, despite the monster sensor and OIS tech,
outsourcing the wireless charging to a dedicated cover accessory
, instead of building the coil into the phone, which explains those
two contact pins we see on the leaked photos
. The handset should measure 130.4 x 71.4 x 10.4 mm and weigh 158 g, which is not slim and light, but is not bulky either for what's inside, and the
Camera Grip accessory
with extra battery juice pack is reconfirmed here as well, if you want a more solid camera-centric handling.
Battery capacity also seems enough, as the source indicates the phone will power through nearly
seven hours of video playback
, 63 hours of music playback, and 13 hours of 3G talk time before it needs a recharge. Now all that is left is to wait for the
official confirmation
of these specs, as the outer appearance in black, white and yellow versions is said to be exactly like the leaked press photo above.