Nokia Asha 205 "Facebook phone" unveiled
8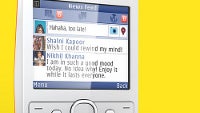 The Nokia Asha 205 has just gone official and with its dedicated Facebook button you could well call it the Facebook phone many have been talking about. It's no high-end device, though. Rather, it's a full QWERTY gadget for the young in emerging markets, sold in a single and dual SIM varieties with a very affordable price tag.
The Nokia Asha 205 comes with the fancy vibrant new colors (black, cyan, magenta, yellow, and white) now typical for Nokia, and runs on Series 40, which makes it a feature phone. Its main purpose is to get developing markets online, but as a bonus you get to download free games from EA.
The dedicated Facebook button simply launches the Facebook app, and interestingly enough you can remap it to do something else like launch... Twitter, ironically.
One thing you can brag about with the Asha 205 is battery life that most smartphones can only dream of. The dual-SIM version of the device comes with a lowe stand-by time of 25 days, versus the original 37 days.
Otherwise, the device is nothing extraordinary: a 2.4-inch non-touch display, a VGA camera, and microSD card support. Connectivity is limited to 2G only, but with the new SLAM Bluetooth sharing technology you'd be able to quickly share files between devices.
source: Nokia