The Nokia 8 announcement is today. Here are the specs, features and images we have so far
16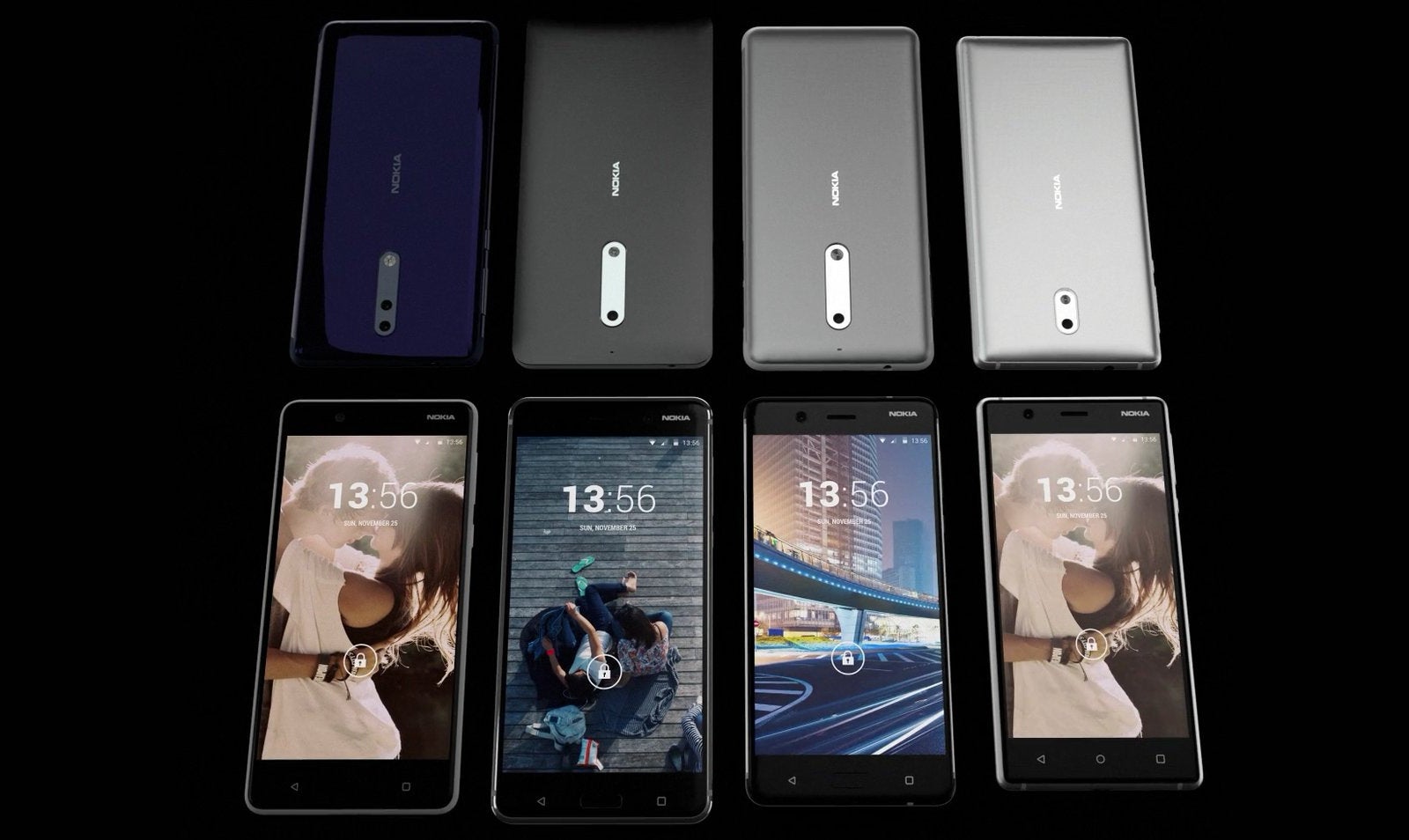 The new family of Nokia smartphones – Nokia 8, 6, 5 and 3.
After months of leaks and rumors, the
Nokia 8
is only hours away from becoming official. HMD Global – the company that now makes and markets phones under the iconic brand name – is hosting an event in London later today, and chances are that's when we'll see
the
high-end Nokia phone we've been expecting. But what will the Nokia 8 bring to the table, anyway? Well, let us walk you through all that is known about it so far.
Nokia 8 design: what will it look like?
Remember the
Nokia 7280
? You know: that odd, lipstick-shaped handset with a rotating dial for navigation? Yeah, the Nokia 8 will look nothing like it. HMD Global is taking a more conservative approach for its flagship phone, and we see nothing wrong with that. No bells. No whistles. Just the stuff you'd expect out of a contemporary Android high-end device. Here's what the Nokia 8 is expected to look like: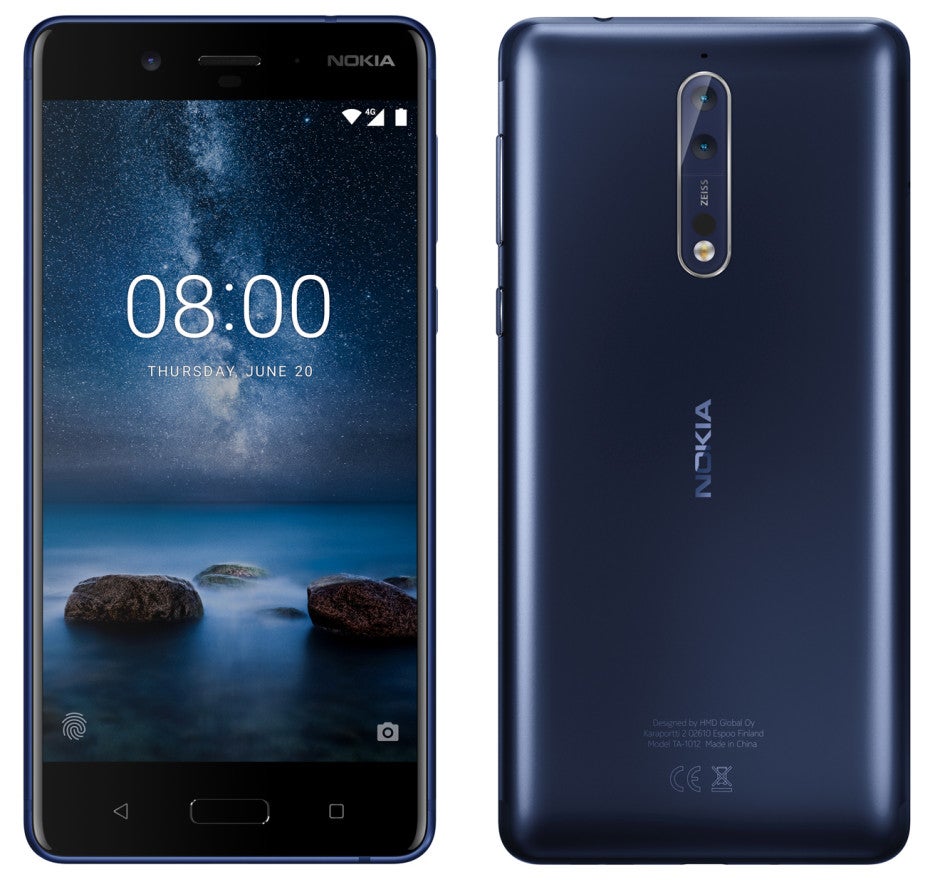 The Nokia 8 in dark blue. Image courtesy of Evan Blass/Venture Beat
So yeah. As the image above indicates, the Nokia 8 is expected to be a minimalist device with a traditional set of buttons for navigation, backed by a fingerprint reader below the display. It will be a metal-made phone, rumors say, and it will come in a range of colors, including silver, copper and dark blue. The only bit sparking curiosity is that dual-camera arrangement at the back, but more on that in just a bit.
The display chosen by HMD Global is said to be 5.3 inches in diagonal, with a standard aspect ratio of 9 by 16. The resolution – 1440 by 2560 pixels, meaning that the screen should be about as sharp as those on any other modern Android phone.
Nokia 8 specs: what hardware will make it tick?
At the hardware front, the Nokia 8 will tick all of the right boxes. First and foremost, rumors say that it will be powered by a Snapdragon 835 SoC, which happens to be the best mobile chip Qualcomm currently has to offer. It is an energy-efficient piece of silicon too, built on a modern, 10nm process. The chip will be backed by 4GB of RAM, which is an adequate amount, but a 6GB version is expected to be available as well. Storage is said to stand at 64GB – enough for plenty of photos and video – with the option for expansion via microSD cards. An audio jack is also present, by the way. Battery capacity is still a mystery.
As far as software goes, leaks have shown the Nokia 8 running Android 8.0.0, which is the next major release of Google's mobile OS, also known as Android O. This leads us to believe that the phone will run Google's latest software out of the box – in a clean form mostly free of alterations.
Keep in mind that the specs listed here are not official. They are based on leaks and rumors and may therefore end up being a bit off.
Nokia 8 camera: how will that dual shooter work?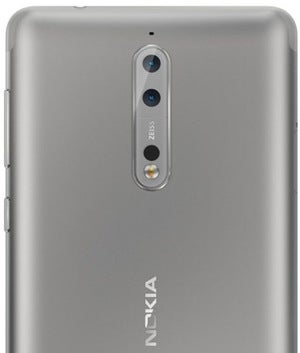 The Nokia 8 will have a dual camera with Zeiss optics
That dual camera we mentioned earlier could end up being one of the Nokia 8's biggest selling points. Rumors claim that the setup is comprised of a regular main camera and a secondary one that shoots in black and white, much like what Huawei has been using for its flagship phones recently. The strength of such a camera arrangement is that a monochrome camera is more sensitive to light, hence it can capture more detail with less noise than a color counterpart. Visual information from both sensors can be combined in software to produce sharper, higher-quality images, even in low light. Plus, you'll be able to shoot dramatic, monochrome images for your Instagram followers' viewing pleasure.
At the front, the Nokia 8 is expected to sport a 13MP camera. Autofocus hasn't been mentioned so far, but we won't be surprised by its presence, seeing that the mid-range Nokia 6 has an auto-focus selfie shooter.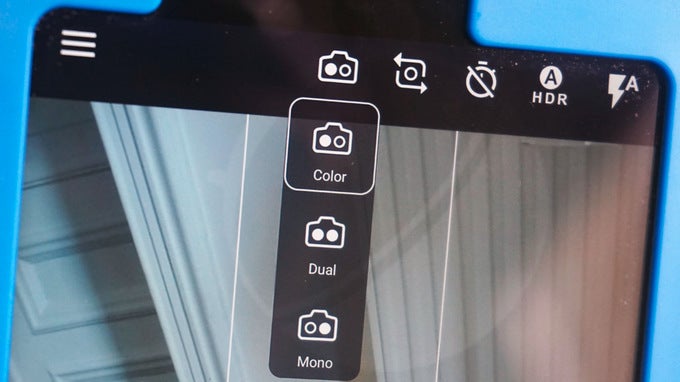 Leaked image allegedly showing the Nokia 8 camera app, where a mode involving both cameras is listed
Nokia 8 price and release date: when will it go on sale?
First, the good news: it is speculated that the Nokia 8 will be aggressively priced, so it might be one of the cheaper high-end Android phones around when it is released. Rumors are pointing at an off-contract price of 520 euro in Europe, which would suggest a 520$ price if the phone ever comes to the US. But at the same time, we're skeptical about HMD Global's ability to launch this phone quickly after seeing how its
Nokia 6
,
Nokia 5
, and
Nokia 3
took forever to launch globally.
The Nokia 8 is expected to be announced at an official event in London at 7:30PM local time (that's 2:30PM Eastern, 11:30AM Pacific). At this time we're not sure if the announcement will be livestreamed, but we'll share a link with you if one becomes available. Stay tuned for more!