Nokia 8 Review
44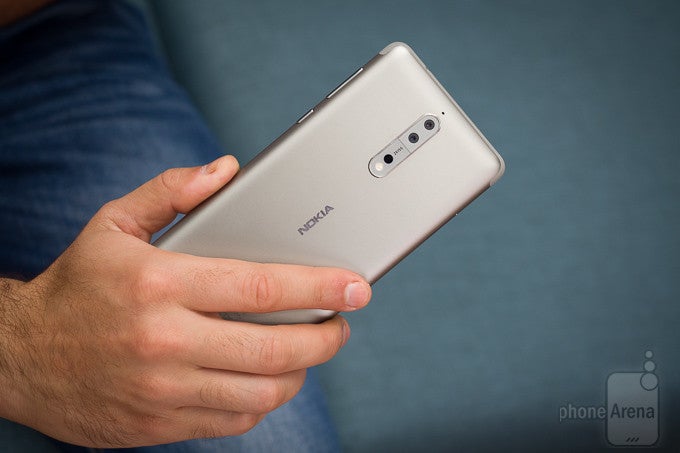 Nokia is back. It has embraced Android and it's got a Snapdragon 835 flagship phone to compete with the big guns like the iPhones, Galaxies and Pixels. Welcome the
Nokia 8
.
Nokia has built its flagship smartphone following a few simple principles: keep Android clean and bloatware-free, deliver good performance, and provide timely software updates. In many ways, the Nokia 8 is a "stock" Android phone done right, with little flare except for that new "bothie" camera mode.
There are a few things to keep in mind, though: the Nokia brand is now licensed to HMD Global: a different company with some Nokia executives at the helm, but it's no longer that huge giant out of Finland with its own manufacturing plants. Secondly, while the Nokia 8 does feature hardware on the level of Samsung's and Google's best phones, it's sold for a much lower price than the Galaxies or the Pixels.
So how good is the Nokia 8 and does it live up to the expectations? Let's find out.
In the box:
Phone
Еarbuds, black, with 3 different sizes of rubber tips
USB-C to standard USB cable, black
Wall charger, black (supports fast charge, up to 18 watt output)
Sim ejector tool
User Manual
Design
Solid aluminum build quality with some curves for a better in-hand feel, but no water proofing.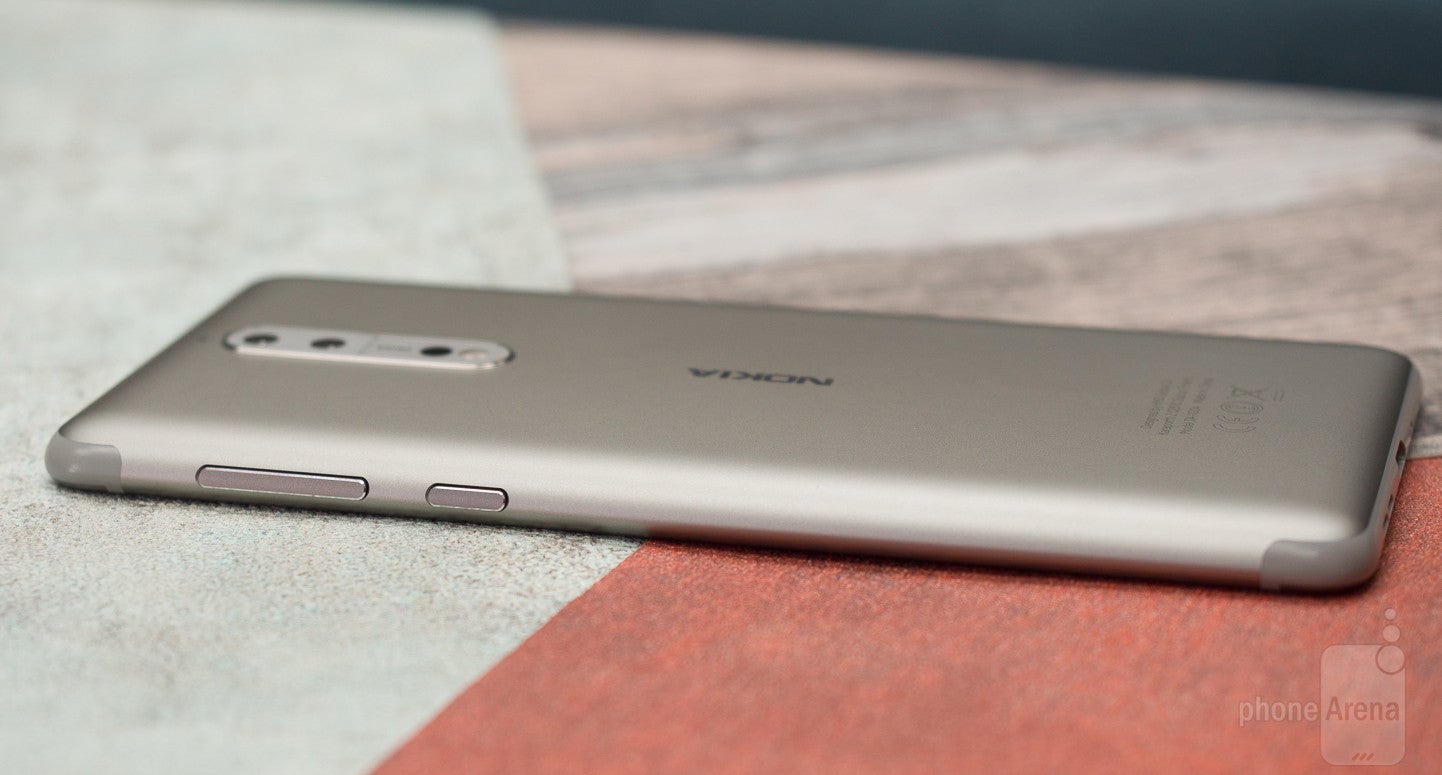 The Nokia 8 is a phone with a 5.3" screen of a traditional 16:9 aspect ratio. Its big bezels on the top and the bottom seem unnecessary and make it look a bit dated compared to all the "edge-to-edge" flagships out there.
But what Nokia did right is the screen size. While many phones go with larger and larger displays these days, a 5.3" screen was picked for the Nokia 8 – a tad bit below the average, but of big benefit to actual comfort and ease of use. The Nokia 8 is not too big to carry in a pocket and not too big to do some things on it with just one hand.
Here is the exact size of the phone:
5.96 x 2.90 x 0.31 inches (151.5 x 73.7 x 7.9 mm), weight of 5.64 oz (160 g)
Nokia takes pride in the construction of the 8: it's made of aluminum with very nice curves at the edges that make a big difference in terms of in-hand fit and feel. It's not quite as sleek as say the
OnePlus 5
and it does not feel as well made, but it's not too far behind either.
Up front you have a tiny home key with a fingerprint scanner built in it. It's our first gripe with the Nokia 8: it's too small and not as accurate as on other phones, so I often had to press it a few times and re-position my finger to get it to work. Those are all issues related to its too small size.
Then we have the recents key on the right and the back key on the left, and there is no way to change their places. Unfortunately, there is no water-proofing on the Nokia 8, so be careful not to get it wet. On the bottom there is a single USB-C type port for charging and – thankfully – a headphone jack.
Display
The 5.3" screen might be sharp, but colors are cold and dull.
The Nokia 8 ships with a 5.3" IPS LCD screen with Quad HD (1440 x 2560 pixel) resolution, which looks very, very sharp.
We've already mentioned the situation with the big bezel on the top and bottom, it definitely looks outdated. The screen is the traditional 16:9 size, so most videos fit perfectly, without any black bars or cropping.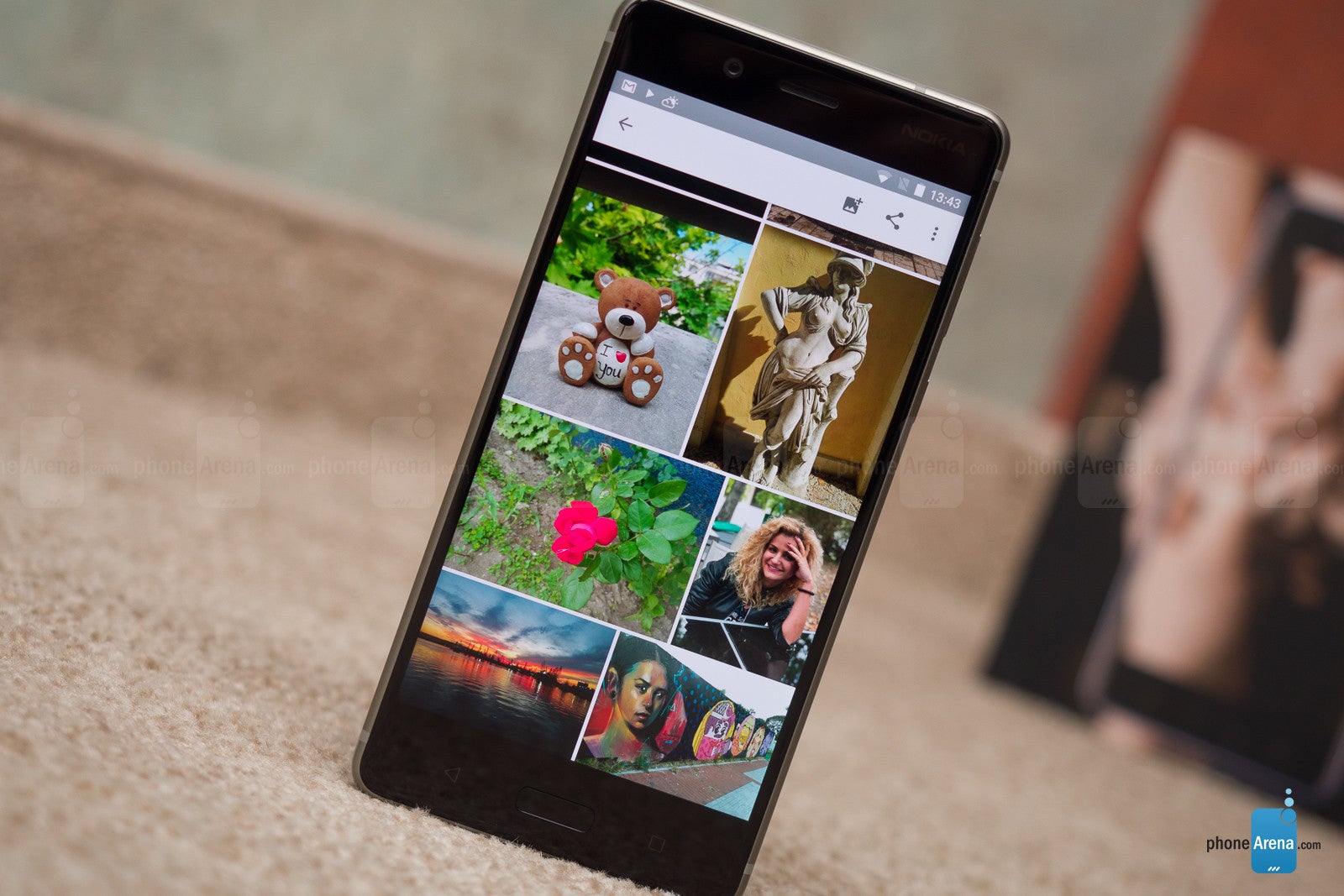 How about the actual quality and the color reproduction, though? They are not great. In fact, among the top phones out there, we'd say that the Nokia 8 ranks worst. Colors are very cold, the screen looks a bit dim and lacking vibrancy. There are no additional color modes, no fine settings, so what you see is what you get, and the screen is definitely one of the weaker spots in the Nokia 8.
On a positive side, it does get very bright, peaking over 700 nits, which helps a lot for outdoor visibility (but does not matter much for anything else).
The display also has something like an "always-on display" function that shows you the date and how many missed notifications you have and from which app. Unfortunately, text on the screen is too dim in this mode and it's very hard to see, rendering the option nearly useless.
Display measurements and quality