Nokia 8 flagship is official with Zeiss dual camera and live-streaming abilities
65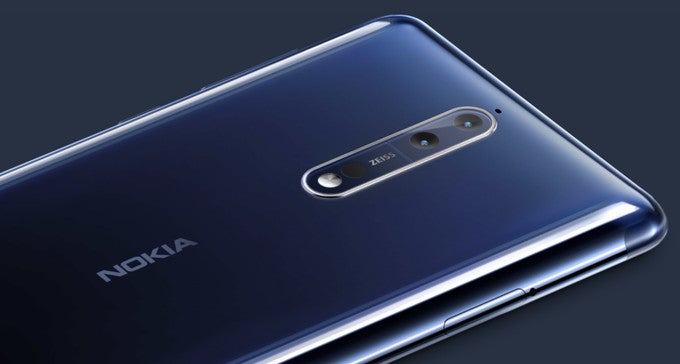 For quite some time it has been rumored that a high-end Nokia phone would launch soon. Today, HMD Global made that phone official. It is known as the Nokia 8, and soon you'll be able to get one. Here's what this new Android-powered heavyweight has to impress with.


Design: keeping it simple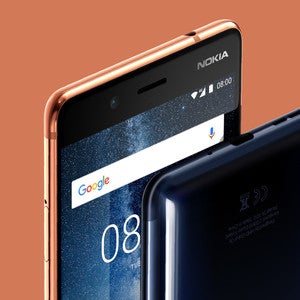 As expected, the Nokia 8 goes easy on the bells and whistles. Much like the other Nokia smartphones launched by HMD Global so far, the brand's flagship follows a traditional design approach. It revolves around a metal body curved at the edges and a 5.3-inch screen situated at the front. There are no super-slim bezels in play. You don't get water-resistance either, as the phone only has an IP54 protection against light splashes.
What you
do
get is a handset meticulously built out of a single piece of 6000-series aluminum. Below the screen you'll find a fingerprint scanner and capacitive navigation buttons, while the headphone jack is at the top and the USB-C port is at the bottom. There are several colors to pick from: glossy or matte blue, grey or copper.
Display: large, bright, detailed
The 5.3-inch display on the Nokia 8 is of the LCD variety and packs plenty of pixels – 2560 by 1440 of them for over 550 pixels per inch. What's also great to hear is that the screen promises great outdoor visibility with up to 700 nits of brightness. And when not in use, it can show you basic information like notifications for missed calls or unread messages. HMD clarifies that its always-on display approach relies on a low-powered section of the display to minimize its effect on battery life. There's a layer of Gorilla Glass 5 protecting the screen against scratches and cracking.
Processor, memory and software
Under the hood of the Nokia 8 is a Snapdragon 835 SoC – a powerful, yet energy-efficient chip that should be able to run anything you throw at it. 4GB of RAM are also on board along with 64GB of storage, but you can also pick a higher-end variant offering 128GB of space. You can further use the microSD card slot to add extra gigs if you need them. For a brief period a 6GB model was mentioned at the company's website, but it has been removed since.
To help with heat dissipation, a copper pipe is built into the Nokia 8. It pulls heat away from the system chip and spreads its across the device's surface, thus helping it work harder for longer.
Battery capacity stands at 3090mAh for the Nokia 8. The cell is not user-replaceable, but can be recharged quickly thanks to Qualcomm's QuickCharge 3.0 technology.
On the software side, HMD Global is keeping things clean, just like it did for the launch of the Nokia 3, 5, and 6. The Nokia 8 will run a pretty much stock version of Android 7.1.1 Nougat, with an update to Android O coming in the near future. The lack of heavy manufacturer modifications would allow HMD Global to release timely software updates, thus keeping its flagship up to date.
Dual camera, Dual-Sight livestreaming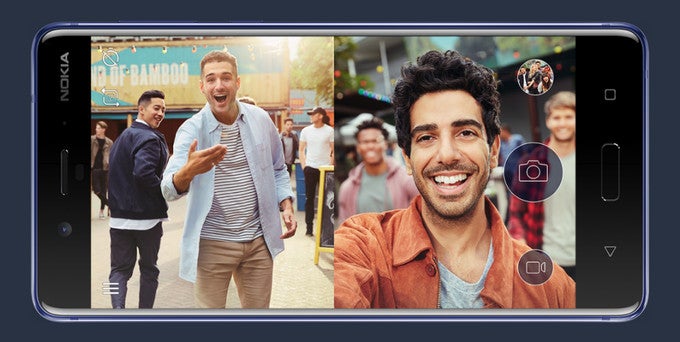 And now for the most exciting part – the camera on the Nokia 8. On the back we have a dual-camera setup comprised of two 13MP cameras – the main is an F2.0 shooter with OIS while the secondary boasts a monochrome sensor. At the front is a 13MP camera with fast, phase-detection autofocus and display flash. All three snappers use Zeiss optics for greater clarity.
Interestingly, the camera feature touted the most has little to do with the dual-camera arrangement. It is called Dual-Sight mode and it takes advantage of the camera app's support for native live-streaming to Facebook or YouTube. In a nutshell, this mode lets you stream video from both the front and the rear cameras in a single video feed – what HMD calls a Bothie. As pictured above, the video is comprised of two halves – one for each video stream. Sound is captured using Nokia's OZO technology for 360-degree audio reproduction.
Details about the dual-camera setup on the Nokia 8 are scarce, but it looks like it could work by combining visual information from both sensors into a single image. Black-and-white cameras are known for their greater light sensitivity, so the data can be used to enhance the details captured by the primary color sensor.
Nokia 8 price and release date
HMD is promising a speedy launch for its flagship phone. The Nokia 8 release is set for September, when the device will be made available globally at a price of about 600 euro ($706). So far there are no specifics detailing a Nokia 8 launch in the US.