Nokia is rumored to be delaying Android updates to boost Nokia 8.1 sales
95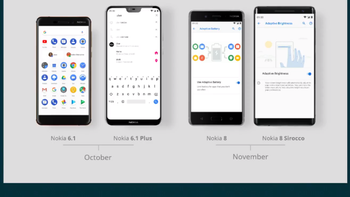 UPDATE
: We have received the following statement from HMD Global on the matter:
"There is no purposeful delay. As soon as the upgrade to Android Pie is ready and we can be sure that it delivers the best experience for our fans, we will begin the update cycle. We are committed to a pure, secure and up-to-date Android experience which involves rigorous testing to ensure no part of that commitment is compromised."
The original article continues below:
When it comes to pushing out software updates
Nokia
usually does it quickly and within the announced timeframe. Back in October, though, the company promised that the
Nokia 8
and
Nokia 8 Sirocco
would receive the Android 9 Pie update in November. This hasn't happened because of issues, according to HMD Global, but today we
may
have found out another
reason
why.
According to one industry source, the Android 9 Pie updates for the
Nokia 5
, Nokia 6, and
Nokia 8
are finalized and have been for quite some time – the Nokia 8 was recently spotted
running Android Pie
. But rather surprisingly, it's claimed that the company is withholding certain updates in the hope of boosting sales of newer devices.
While the Nokia 5 and Nokia 6 models are expected to receive the updates sometime this month or in early January – still pretty early considering the models are almost two years old – users of the original Nokia 8 may have to wait quite a while longer.
Despite
the promise
of receiving the update last month, it's claimed that
HMD Global
's Chief Product Officer, Juho Sarvikas, took the decision in early November (when the update was ready) to push back its release. The reason behind this being that he believes a delay will push consumers to buy the newer
Nokia 8.1
– consumers tend to prefer buying smartphones with the newest software.

According to the source, the original Nokia 8 will now receive its Android Pie update on the last day of December or possibly even early January, essentially two months later than promised if true.
Recommended Stories