Nokia 7 Plus becomes the first non-Pixel model able to run Digital Wellbeing
19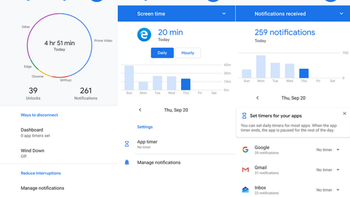 Google's Digital Wellbeing app, which up until now was available only on the
Pixel
handsets, monitors a person's daily phone usage (Android only), app use and reveals how often he or she checks his/her handset. Another feature allows the user to set a schedule that turns the screen to grayscale when it is time to put the phone away for the night. And daily caps can be placed on individual app usage so that the Android user doesn't become "addicted" to a particular social media app or game.
The Digital Wellbeing app, technically in beta, is now available for
Nokia 7 Plus
units running the latest Android 9 Pie beta. This is the first non-Pixel phone able to use the app and suggests that all Android models with Android 9 Pie installed will be able to run Digital Wellbeing. Nokia
7 Plus
users do need to keep in mind that the version of Pie they are running is a beta as is the Digital Wellbeing app. That means that some features might run slow or might not run at all.
If you have a Nokia 7 Plus running the latest Android 9 Pie beta, you can install Digital Wellbeing from the Google Play Store. Simply click on this
link
.