Nokia 7 Plus Review
19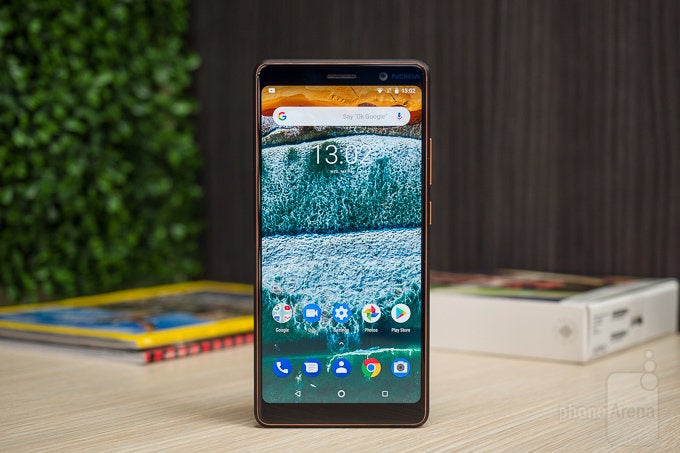 HMD Global, the new home of Nokia phones, recently announced one of its best midrangers to date, and we couldn't wait to get our hands on it – to review the zoom camera config on the copper-accented Nokia 7 Plus and to test the endurance out of the big battery inside it. That's not to mention the stock Android that Nokia slapped on it, and which gives way only to Google's Pixels in terms of timely OS version or security updates. But does the Nokia 7 Plus live up to the value-for-money hype it created when it was announced? Let's find out.
In the box:
Fast wall charger (up to 3A)
USB-C cable
In-ear headphones
Warranty and information leaflets
Design
Oh, Buddha, finally a good phone with metal design
In a rather refreshing twist, the Nokia 7 Plus is entirely crafted out of 6000-series aluminum alloy. We say refreshing, as we recently had to choose a phone for a friend on a budget, and, the klutzes they are, they wanted a metal body, none of those glass-y shenanigans that will shatter from waist height. We were actually hard-pressed to find good metal phones from familiar brands, which is why the 7 Plus announcement was a godsend. How good is the design?
Plenty, it turns out, as the 7 Plus, while not made out of the stronger 7000-series aluminum, still feels very sturdy in the hand, with long, wide, tactile lock and volume buttons on the right which are easy to feel and press without looking. The handset is available in two interesting combinations of black or white body with "copper" sides and accents, but we have to admit that the copper looks better on the black version.
That being said, the design looks rather orthodox compared to the metal-and-glass wonders out there, and there are certain kinks with its blocky, edgy nature, chief among which is that the phone is too wide to handle comfortably with one hand.
Nokia has placed the finger scanner on the back, which may or may not be your cup of tea, but we in particular have nothing against its placement. We also don't mind that the Nokia 7 Plus sports a modern Type-C USB port for fast charging the huge 3800 mAh battery, and does have a standard 3.5mm earphone jack. Sweet!
Invalid image meta
Display
Cold front, but good for the beach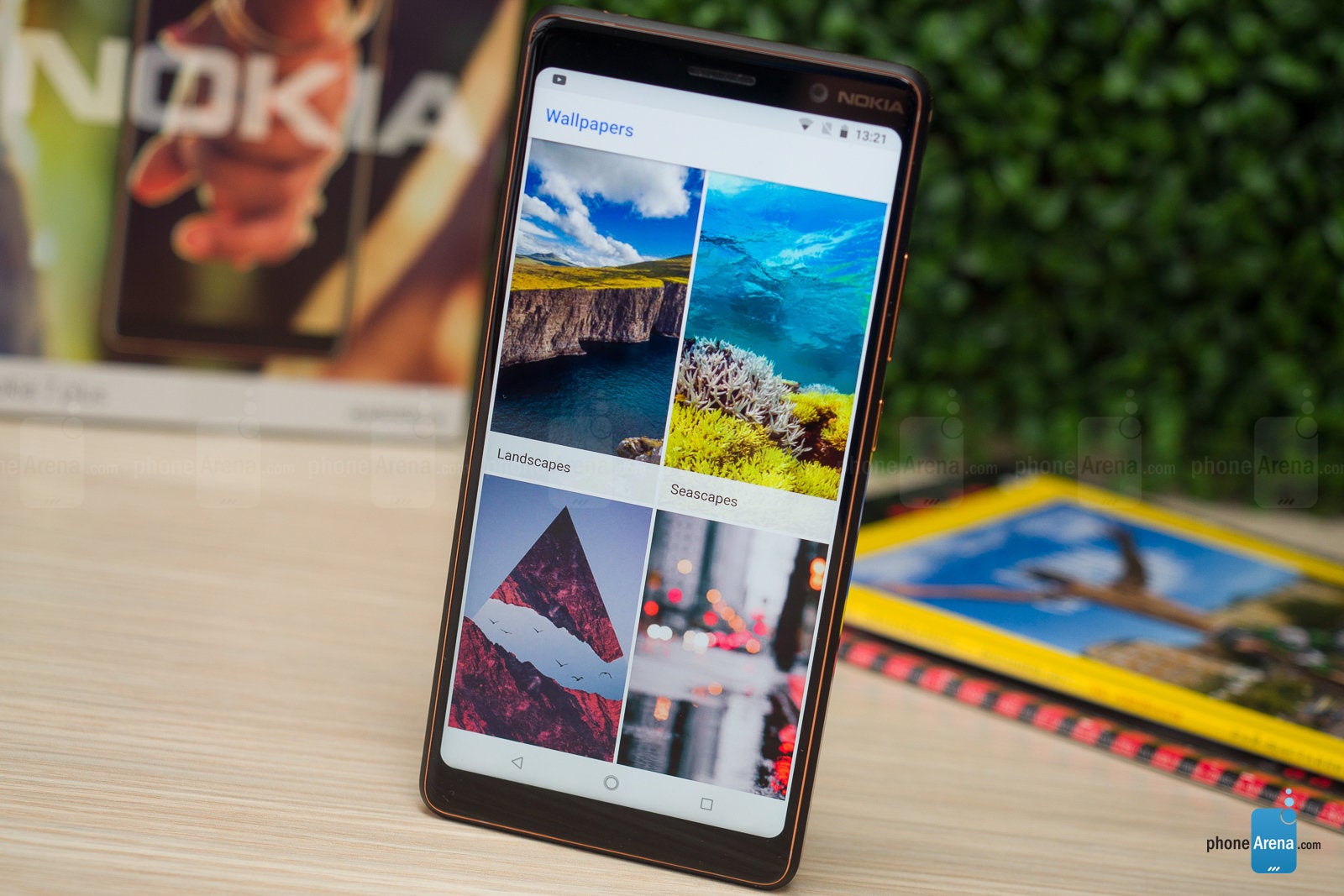 The trendy 1080 x 2160 pixels LCD screen carries an extra polarizer layer for enhanced contrast and viewing experience in bright sunlight – perhaps similar to the Nokia technology since the days of Lumia, known as Clear Black. As a result, the screen exhibits high contrast and low reflections, while outdoor visibility is further aided by the decent peak brightness capabilities.
When it comes to color representation, though, the picture is less rosy, and more greeny. The Nokia 7 Plus' display exhibits saturated cold colors, and there is no way to adjust its tone in the settings if you don't like it – stock Android, you know, but more on that below.
Display measurements and quality
Interface and functionality
Faster updates, but lack of features
Just like other recent Nokia phones, the Nokia 7 Plus is an Android One phone, running the so-called "pure" version of Android 8.1 Oreo in this case. The stock interface is thus a tradeoff between richness of features and timely updates. Granted, there is no bloatware, and you will be among the first in line for the next version of Android.
Pull down on an empty screen area with your thumb to bring down the notification shade, though – no go. Any other useful gesture or extra app that helps you with basic tasks like full-featured file managing or simple audio recording – please refer to the Play Store each time. Transparent backgrounds, interface animations or plumper, less colorful icons or interface elements? Tough noogies, Google's Material Design is flat, simplistic, and in jolly hues.
The apps that you get are nearly all stock Google apps, and that's that, hope you like them all. On the other hand, Android One makes the notorious wait for major updates a thing of the past, as Nokia's phones have been getting new Android versions or security patches shortly after Google's own Pixels.
Processor and memory
Stock Android flies on this config
Under the Nokia 7 Plus' hood, you'll find the Snapdragon 660 mobile platform, carrying an octa-core CPU running at a clock speed of up to 2.2GHz; the Adreno 512 GPU is also on board. Don't get fooled by the "mere" 6-series notation, though. This chipset is plenty powerful to record 4K video at 30fps.
With 4GB of RAM and 64GB of native storage, the phone offers enough memory for its class. There is also a microSD slot for expansion, so you are all set in terms of power and memory, considering pure Android is not heavy on resources at all, and the interface is running uninterrupted.
Camera
Decent for the class, but 4K video is shaky and flaky
A dual camera setup using Zeiss optics is on the back (12MP + 13MP with 2x zoom), while a front-facing 16 MP camera, again with the Zeiss branding, handles selfies and video chats. We liked what the selfie snapper is capable of in terms of colors and sharpness, even though the bokeh mode algorithms couldn't, say, tell our ear from a diverse background.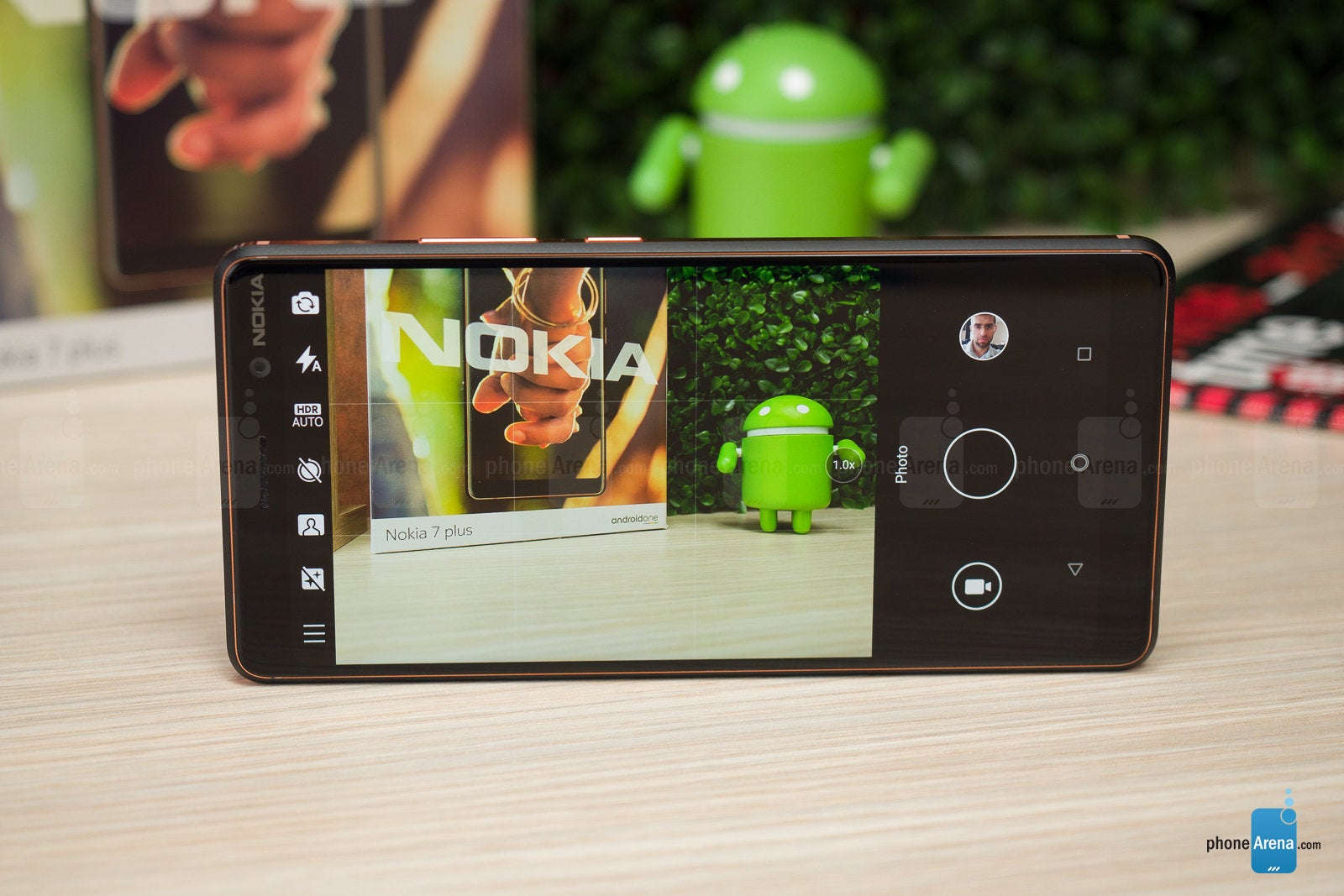 The phone sports a Pro Camera mode, too, which lets you take pictures by giving you easy manual control over advanced camera settings like white balance, focus, ISO, shutter speed and exposure. The handset captures stereo audio while filming, with no less than three mics, in line with the best of Nokia's traditions in audio recording.
How do photos turn out? It looks like the Nokia 7 Plus has the potential to capture great shots, but it has its weaknesses. As expected, photos turn out really good in favorable conditions – with plenty of detail and nice, likeable colors. But in dynamic scenes, where both very light and dark areas are present in the frame, the image may turn out underexposed or rather unnatural if the automatic HDR feature gets activated. Predictably, noise becomes an issue in low-light scenes.
As for the 2X zoom camera, we're left a bit disappointed. Sure, it can be useful, but it lacks stabilization and it shows – there's a tendency for photos to come out blurry, even when shooting in broad daylight, unless you have a super-steady hand. Using the HDR mode makes matters even worse.
Video quality is about average, too, exhibiting the same underexposure as the stills, resulting in darker than it should be footage. The 4K clips hiccup at times, and there is some skipped framing, indicating that the image processor is gasping for breath. Moreover, 4K video isn't stabilized and is very shaky if you don't hold the phone extremely steady. The 1080p clips, while fine in terms of detail and with smooth stabilization, are also darker than they should be, with an artificial contrast boost. Continuous autofocus works very well in both modes, respotting object near and far very quickly.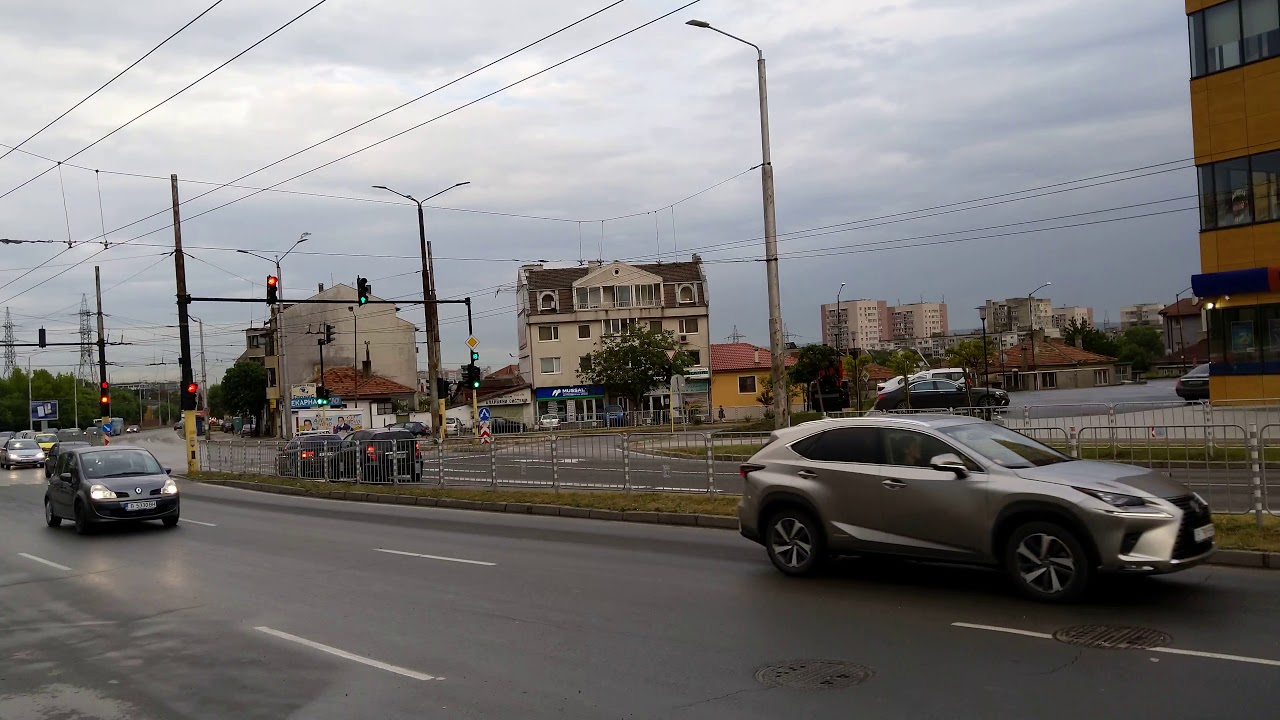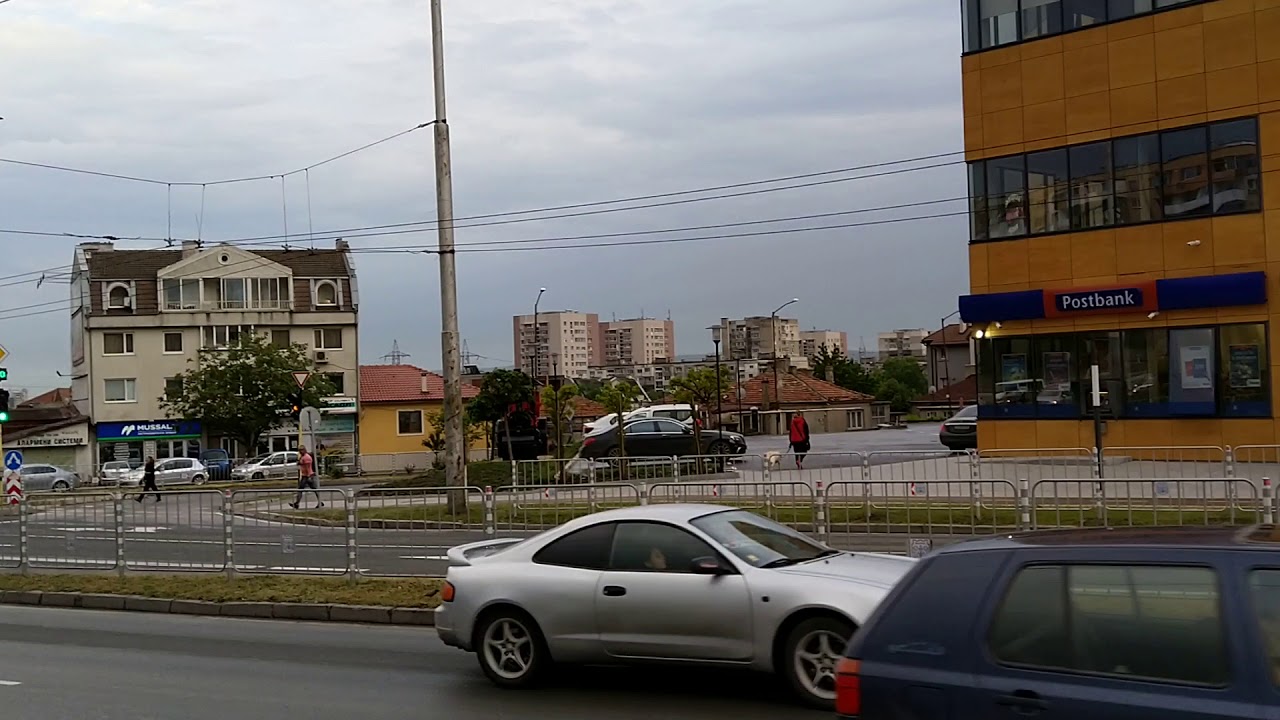 Call quality and speaker
The earpiece of the Nokia 7 Plus doesn't double as a speaker as on other phones. There is a sole speaker at the bottom of the phone that is strong enough and with fairly clean output, although lacking a bit in on the bass end.
During phone calls, the voices of people we talked with came out loud, clear and with intelligible timbres. When it comes to our own voice on the other end, we can say only good words. The mics weeded out ambient noises very successfully and transferred out voices strong and clean to the receiving end.
Battery
Long battery life, fast charging, the works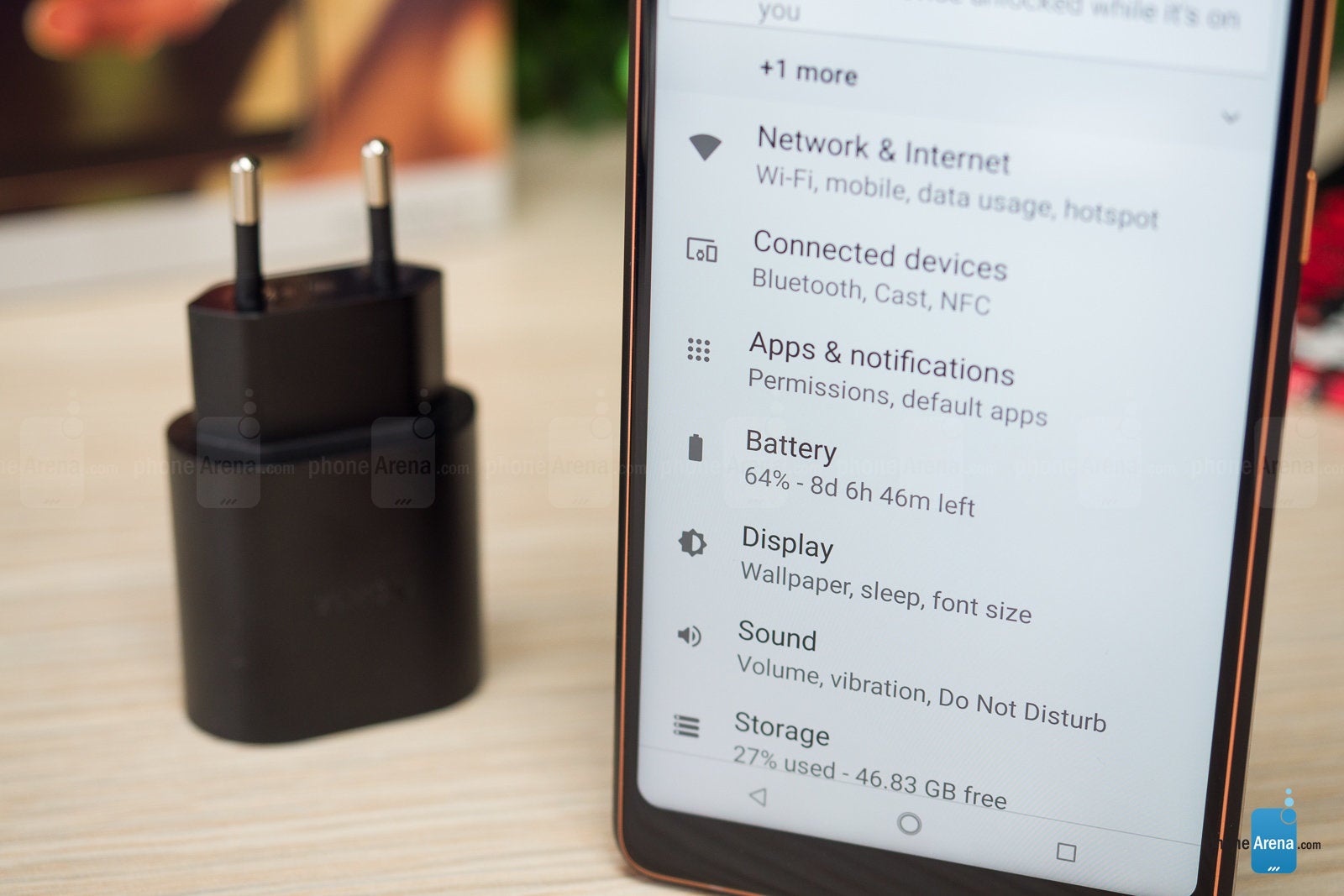 There is a huge, 3800 mAh battery on board, which, combined with the midrange chipset and screen resolution, could hit two-day life with normal usage. We found that hunch to be largely true, with the phone hitting the 50% mark at six hours into our grueling battery test, and lasting nearly ten hours of screen-on time overall.
There is a fast 3-amp wall charger in the box that gets the 7 Plus up and running at 50% charge for half an hour, while we tested total charge time to be just shy of two hours, which is great for the battery's size.
Conclusion
The
Nokia 7 Plus
is currently selling for 350 EUR (about $415) and is one of the best phones you can get for this kind of money if you don't mind big, somewhat blocky handsets that aren't conducive to one-handed operation. It is sturdy, well built, the copper accents add to the stylish looks, and is one of your last good options for a metal phone that is less likely to shatter when it hits the pavement sans a case.
We found the camera to be good enough for its price range, despite its shortcomings. Memory is plenty, and the chipset can record 4K video with great stereo sound from three directional mics to go with it. What more can you want at this price point?
Add to these the stock Android Oreo, plus being on the top of the Android P waiting list, and you got yourself a great handset at a decent price.
The ho-hum parts, like the finicky 2X zoom camera and cold display colors, aren't really dealbreakers here, so if you are looking for one unpretentious metal handset with good battery life, the Nokia 7 Plus is currently one of your best bets.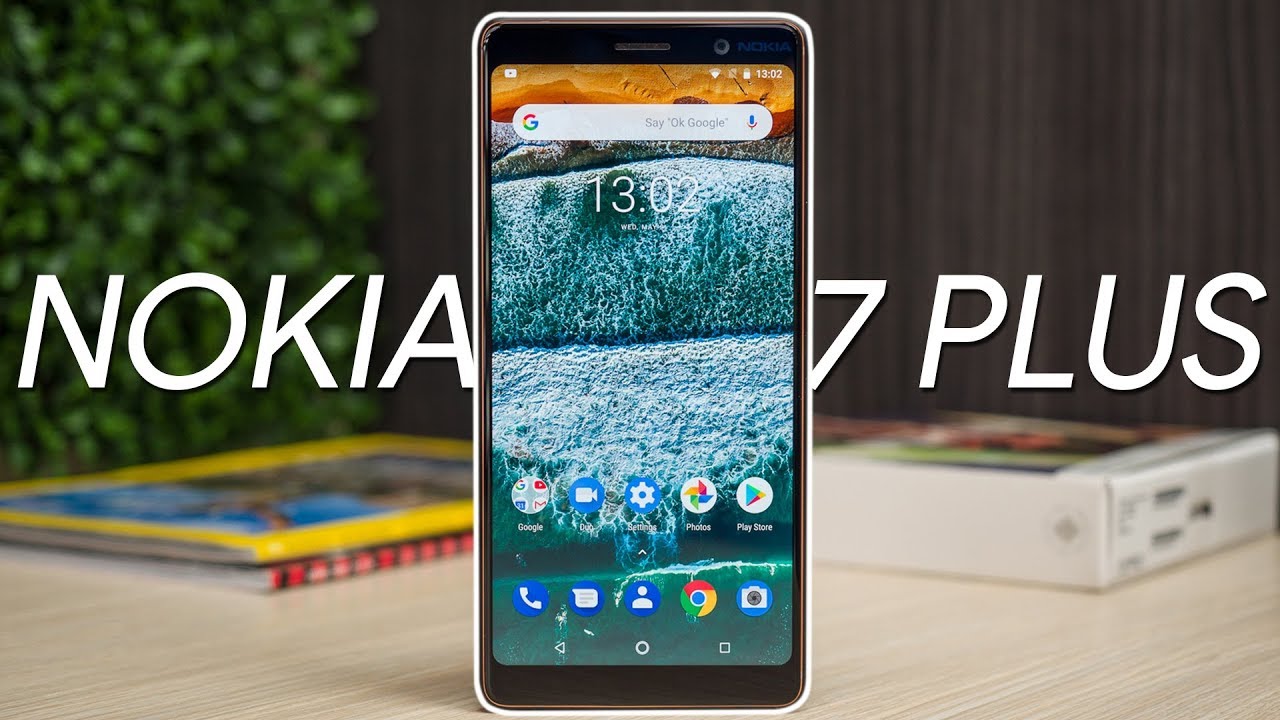 Recommended Stories